Things You'll Need
1 to 1 ½ inch wide ribbon to match or accent bridal gowns and live flowers

Small silk flowers to match or accent bridal gowns and live flowers

Florist wire (thin)

Wire cutters

Thin rubber bands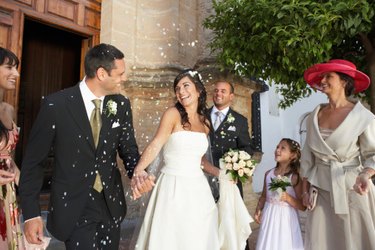 Wedding pew bows can be a lovely way to decorate the seats (or pews) of the church as well as accent your walk down the aisle. While you may decorate the first 3 to 6 seats rows with live flowers, it is recommended that you make pew bows for the remaining rows. Read more to learn how to create wedding pew bows.
Step 1
Count how many seats you are going to decorate. You can do every row or every other row.
Step 2
Calculate how much ribbon you will need. For a full bow and long ribbon tails, you'll need 45 inches per bow. Multiply the number of seats by 45 inches to determine the amount of ribbon you will need to buy. You can purchase a full spool at any craft and fabric store.
Step 3
Cut the ribbon into sections 45 inches long.
Step 4
Choose small silk flowers such as tiny roses. These are usually available in bunches in the wedding aisle of craft stores. For added creativity, select flowers adorned with glitter or those with silk stems. Include a bit of greenery for larger flower arrangements.
Step 5
Group the silk flowers into small bouquets for each pew bow. Arrange larger flowers in the back and small flowers in the front as you would a corsage.
Step 6
Take a length of ribbon and tie it into a bow around the bouquet of silk flowers. Wrap the ribbon twice around the stems to better cover the flower before tying the bow. Gently pull the loops of the bow until they are 3 to 4 inches long. Trim the stems back until they barely show beyond the ribbon wrap.
Step 7
Cut the florist wire into pieces 6 inches long. Slip the wire through the back of the tied bow and loosely twist the ends closed. This will be used to hang or attach the bow to the seats.
Step 8
Roll up each of the ribbon tails and loosely secure with a rubber band. This will give a nice curl to the tails when they are hanging on the seats. Additionally, this will make the pew bows easier to store. Leave the tails in the rubber bands until your wedding day.
Tip
Choose ribbon that contains wire edging to better control the shape and drape of the bow. When storing the bows, avoid crushing them by packing them loosely in a box with tissue paper or bubble wrap.
Warning
If marrying in a church or temple, always check in advance to make sure it's okay to decorate the pews. Ask what ways are acceptable to hang the pew bows.