Things You'll Need
Measuring tape

Tulle fabric

Sewing needle

Thread

Scissors

Ladder

Staple gun or hammer

Staples or nails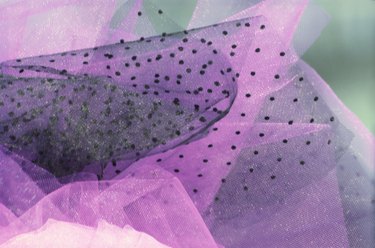 Deep swags of fabric draped from the ceiling can add warmth, elegance and a touch of intimacy to any party or affair, while providing the added benefit of concealing unsightly structural elements. Rich, heavy, luxurious fabrics such as silk, satin and velvet create captivating ceiling drapes, but these fabrics are expensive. To achieve a similar effect with less costly materials, use tulle fabric and plastic tablecloths. The plastic tablecloths add weight and color depth to the lightweight, semitransparent tulle fabric, while the tulle gives the plastic material a distinctive, stylish appearance.
Step 1
Measure the ceiling width to determine how many tablecloths and yards of fabric you will need. Purchase three times more fabric and tablecloth length than the width of the ceiling for each draped row, so the fabric can drape and hang.
Step 2
Stitch together plastic tablecloths so they match the width for each draped row determined in Step 1. Keep your stitches at least 2 inches in from the tablecloth edges to prevent ripping.
Step 3
Cut tulle fabric to match the width and length of the sewn-together plastic tablecloths. Lay the sewn tablecloths on top of tulle fabric. Cup your hands and gather the plastic material along the sides, forming a narrow bunch. Use a squeezing, kneading motion to gather and bunch the material.
Step 4
Loosely wrap the sides of the tulle fabric up around the tablecloth band, creating a loose tube. Pull the fabric edges apart or pull them together to adjust the drapery width. Secure the plastic inside of the tulle with a few stitches every 10 to 12 inches along the length of the band.
Step 5
Climb a ladder and attach each end of the drapery to each ceiling end with a hammer and nails or a staple gun.
Step 6
Place a nail or staple up through the drapery at the center of the ceiling, and place another one between the center and outer edge of the ceiling on each side to create a lavish draped effect.
Tip
Use shimmery tulle fabric for an elegant or whimsical touch.
For a soft look, use light and dark shades of the same color. For example, pair sky-blue tulle fabric with navy- or royal-blue tablecloths. For a bolder look, use contrasting colors, such as lime-green tulle with magenta tablecloths.
For a canopy effect, start at the center of the ceiling and hang drapery outward toward the edges of small or circular rooms.
Give your ceiling drapes an extra-special look with string lights, lightweight paper lanterns or ornaments.
Warning
Always check with the venue you are decorating about policies regarding staples or nails before draping fabric from the ceiling. Altered or damaged ceilings may result in a lost deposit or reparation charges.