Things You'll Need
Wreath

Extension cord

Plastic ties

Ribbon

Scissors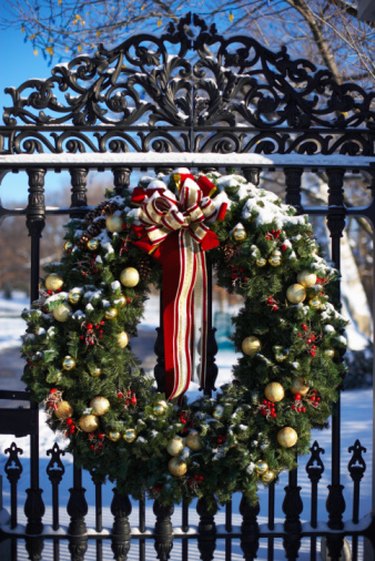 If you have a wreath that requires its lights to be plugged into a power source, then you likely will need to use an extension cord. Extension cords do not look polished or pretty, so you will have to be creative in how you camouflage or hide your extension cord. If possible, purchase an extension cord that is thin and is the same color as your door.
Step 1
Secure as much of the extension cord as possible behind the wreath with plastic twist ties or ribbon that you can weave around the cord and the frame of the wreath. You may need to try this a few different times to determine if have enough cord left to reach your power outlet.
Step 2
Purchase an extension cord cover from an online vendor. This is an easy, decorative solution to an otherwise ugly problem. You can purchase the cord cover, which is fabric, in a color that matches your door.
Step 3
Wrap some of the extension cord around the frame of the wreath before you decorate it. This will conceal some of the extra cord. Do not poke the cord with any decorative materials, such as the wire stems of flowers and leaves.