1 of 26
We don't have to tell you that decluttering is the key to making your space more efficient and attractive, but getting from chaotic to neat-and-orderly can be challenging without the right organizational tools. We've gathered our best do-it-yourself projects to help you transform your space -- from the kitchen to the living room to the garage -- into a clutter-free environment.
2 of 26
Mini Magnetic Kitchen Organizer Tins
What to do with all those small odds and ends on your kitchen counter? Make simple organizers from magnets and old tins to hold everything from kitchen scissors to twine to stamps. Sometimes a little organization can go a long way.
3 of 26
Rustic Magnetic Knife Rack
Ditch the knife block and free up precious countertop space with a magnetic knife rack. This rustic display not only keeps things tidy, but also keeps your sharp culinary tools within arm's reach for easy access. Plus, who knew knives could make such lovely kitchen decor?
4 of 26
Design a pretty pantry while keeping your food fresh with custom etched glass jars. Use them to contain all your snacks sans the bulky cardboard boxes in the pantry, or fill with your favorite goodies and display on your kitchen counter. Why not make munching on yummy snacks even easier?
Image Credit:

Carrie Waller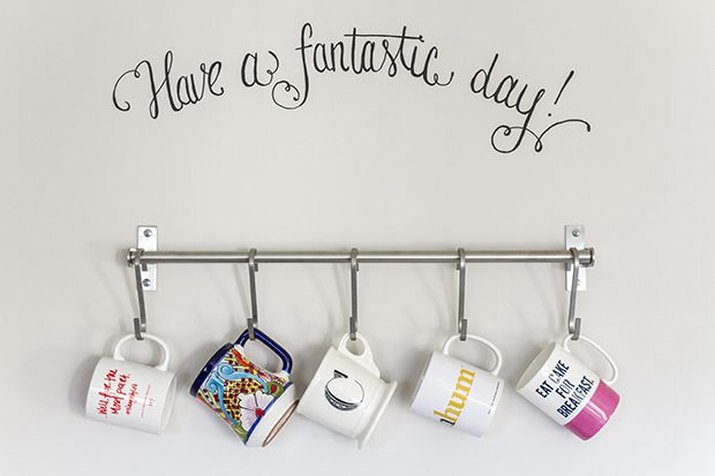 5 of 26
When caffeine is priority number one, you want all your supplies at the ready so nothing gets between you and your cup of Joe. Set up a coffee station with a couple quick Ikea hacks to ensure you have your mug, k-cup and sugar on standby in the morning (and in the afternoon for that midday pick me up, of course).
Image Credit:

Carrie Waller
6 of 26
Image Credit:

Cameron Oden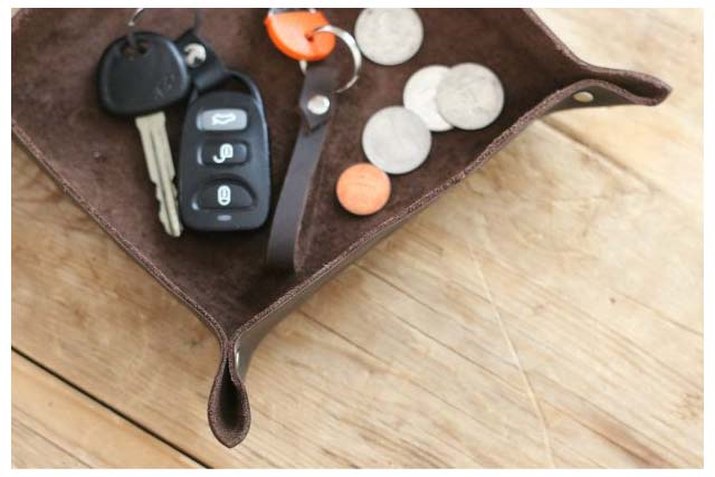 7 of 26
Declutter your entryway with a leather valet tray that's equal parts stylish and functional. The days of searching high and low for your sunglasses and keys before you head out the door are officially over. Just think of all the time you'll save with this organizational lifesaver!
8 of 26
Plastic Animal Key Holder
Add a bit of personality to your entryway with a quirky plastic animal key holder. All you need is a plastic animal, a wood plaque, spray paint, and superglue to create a hip helper that'll hold your essentials at the ready. You won't even need to slow down as you run out the door.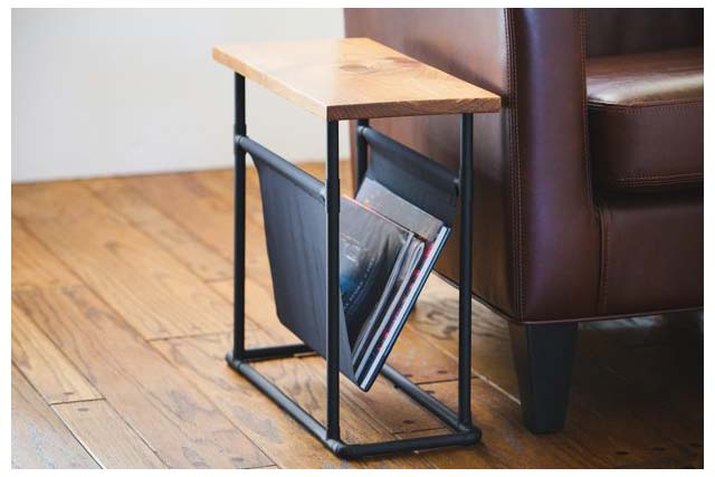 9 of 26
Side Table + Magazine Rack
This modern side table with a built in magazine rack keeps your reading material discreetly organized while also providing ample surface area for your morning cup of coffee. The two-in-one design is especially ideal for small space dwellers, but who couldn't use a little extra space in the living room?
Image Credit:

Cameron Oden
10 of 26
Storage Trunk Bench and Coffee Table
Multipurpose furniture is one of the most efficient ways to get the most organizational bang for your buck. This storage trunk bench and coffee table not only has ample storage space, but also features a flippable topper -- one side acts as a cushion to provide additional seating for your space and the other acts as a flat surface coffee table.
11 of 26
A bamboo ladder is a chic decorative accent that doubles as a versatile vertical organizer. Use it to display pretty blankets in your living room, nice towels in your bathroom, or inspirational magazines in your creative workspace. The best part (aside from being able to use it in any room)? You can make it for under $20.
Image Credit:

Jennifer Bridgman
12 of 26
Self-Concealed Charging System
Nothing ruins a perfectly designed space quicker than a cluster of untamed cords, and nothing is more frustrating than tangled wires. Tackle both of these problems in one fell swoop by upcycling a wine crate into a self-concealed charging system. Now you can charge your electronics in plain sight without all the unsightly wires.
13 of 26
China Hutch Office Organization System
Transform an old china hutch into an organized office command center. Complete with a built-in paper filing system, drawer dividers, and a cork board inspiration zone, your productivity will be at an all-time high. It's like having your own personal assistant for your home office.
Image Credit:

Carrie Waller
14 of 26
Keep your mail off your countertop with an easy-to-make mail display. All you need is wood, yarn and tack nails to create a system that will allow you to showcase your prettiest cards (or, you know, your important bills so you don't miss the deadlines).
Image Credit:

Carrie Waller
15 of 26
Interesting floral fabric with a nailhead trim creates a point of visual interest that almost looks like a piece of art. Use as a memo board or even a vision board.
Image Credit:

Bethany DeVore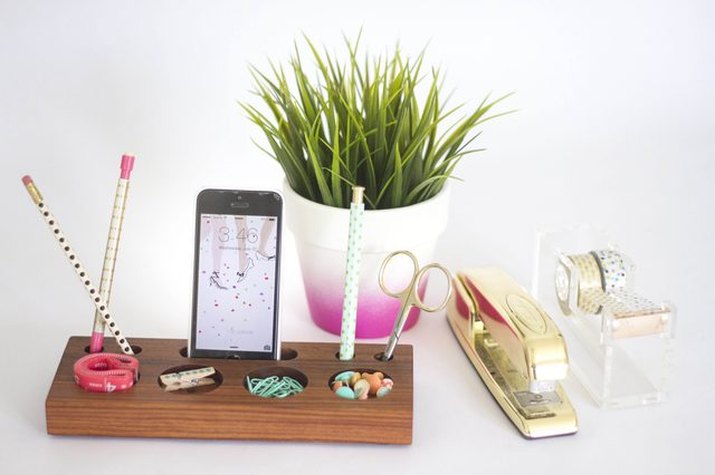 16 of 26
Turn an ordinary piece of wood into a minimalist desk organizer. Customize the caddy to hold the items you need within arm's reach on a daily basis, such as pens, pencils, thumbtacks, scissors and, of course, your iPhone.
Image Credit:

Carrie Waller
17 of 26
Contain your clutter with customizable wire baskets made from chicken wire, aluminum tubing and gauge wire. Keep crafts supplies at-the-ready and organized, or fill with the contents of your choice. Think: Simple storage solution on an easy-to-reach shelf.
Image Credit:

Carrie Waller
18 of 26
Cardboard Box Desk Organizers
Put those empty cardboard boxes to good use by upcycling them into functional (and pretty!) desk organizers. Maximize your drawer space and make sure you can find that pair of scissor or that roll of washi tape the next time you're mid-project and searching for the right supplies.
Image Credit:

Jonathan Fong
19 of 26
Transform shells into mini-organizers using just a bit of gilding paint. Use them to store jewelry, office supplies or even in lieu of salt and pepper shakers. No matter where you choose to use them, they're sure to add a bit of orderly beauty to your space.
Image Credit:

Shannon Smith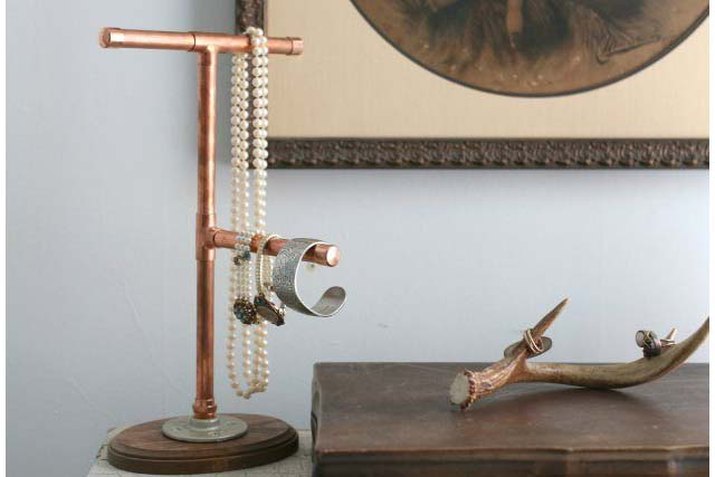 20 of 26
Copper Pipe Jewelry Display
Maximize your vanity space and showcase your curated jewelry collection with a vertical copper pipe jewelry display. May we suggest that you take this opportunity to purge your collection of your rarely-worn accessories and keep only the pieces you hold dear.
21 of 26
Shadowbox Jewelry Organizer
If you have a more extensive jewelry collection (even after an accessories purge), create your own shadow box jewelry display. Tangled necklaces and missing rings will be a thing of the past once you convert to this stylish yet efficient system.
Image Credit:

Sarah Hamilton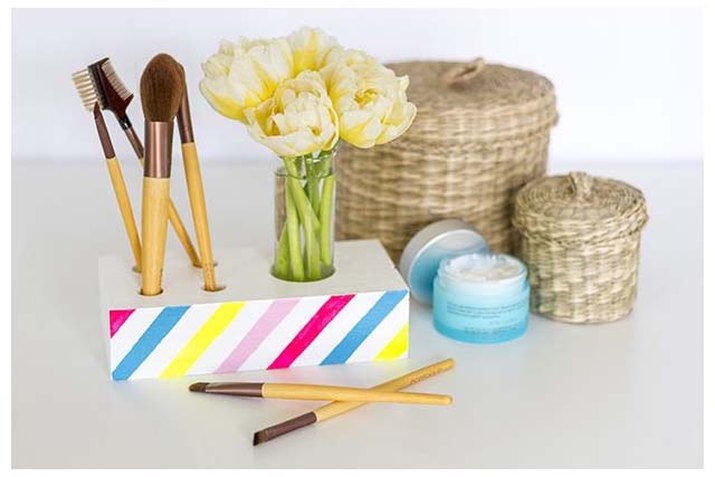 22 of 26
Save your makeup brushes from your vanity drawer or your makeup bag with a simple DIY makeup brush holder. Made from a wood block using a drill press, this DIY requires a little bit of know-how, but the minimal time investment will payoff in daily convenience before you know it.
Image Credit:

Carrie Waller
23 of 26
Midcentury-Inspired Hook Rack
Create an organizational system for coats and hats without compromising the aesthetic of your space with this simple hack for making a midcentury-inspired hook rack. Round wooden dowel holders and paint take an ordinary wall-mounted hook rack from basic to Eames-worthy for an efficient entryway tidying solution.
Image Credit:

Carrie Waller
24 of 26
Industrial Chic Garment Rack
If you're short on closet space, make your own industrial chic garment rack. This DIY project makes for a perfect makeshift closet for a small apartment, a sleek entryway organizational solution, or a stylish extension of an overflowing closet. Add wheels so you can easily move the rack from room to room as needed.
Image Credit:

Tim and Mary Vidra
25 of 26
Industrial Rail Storage Solution
Tame intimidating garage clutter with a sleek industrial rail storage solution. Simply purchase all the tools you need to create your own system from a home goods store, such as Ikea or West Elm, or make your own custom solution using plumbing pipe. Either way, your tools will be within arm's reach and your garage will never have been tidier.
26 of 26
Mini-Industrial Pipe Shelves
Turn an unused corner into a functional space with mini-industrial pipe shelves. Whether you use them to display sports paraphernalia, books, or indoor plants, you can put an otherwise ignored corner to good use with this simple DIY project.