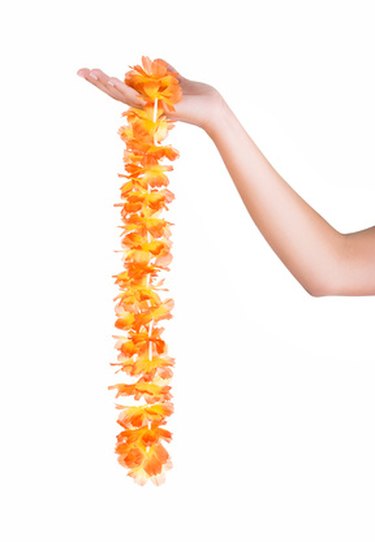 Costume parties are fun, especially if there is a specific theme involved. Hawaiian parties typically involve lots of music, flowers and fruity drinks. Dress in Hawaiian or tropical clothing to fit right in with the rest of the guests. The party outfit does not have to cost a lot; you may already have several pieces in your closet, or you can make some from craft items in your home.
Women
Step 1
Put on a bikini top and bottom. The design or style doesn't really matter, but it must cover you adequately. Pull a grass skirt on over the bikini bottom. These come in short or long styles. Bare feet are appropriate for this costume.
Step 2
Wear a floral print sun dress or a halter dress. Both of these are casual and are appropriate for a beach or Hawaiian theme. Sandals or bare feet go well with this costume.
Step 3
Place a lei around your neck. The more authentic looking ones use real or real-looking flowers. Wear a smaller lei around your ankle or wrist. The lei goes well with both costumes.
Step 4
Place one orchid in your hair, just behind your ear. Secure it with a bobby pin so it will not fall out as the party continues.
Men
Step 1
Put on khaki shorts or pants. If wearing pants, roll them up to about mid-calf. Wear a flower print Hawaiian shirt. You can leave it unbuttoned if you like. Wear sandals if you wish, but bare feet are also appropriate. A straw hat finishes the casual look.
Step 2
Pull a grass skirt on over a pair of khaki shorts. The skirt should be long enough to cover the shorts completely. Put a tiki mask on over you face. Make sure you can see through the eye holes. Bare feet are a must for this costume.
Step 3
Wear a lei around your neck or ankle. Leis go with either costume; you can wear several if you wish.
Tip
Have fun with the costumes; there is no right or wrong way to dress for a Hawaiian-themed party