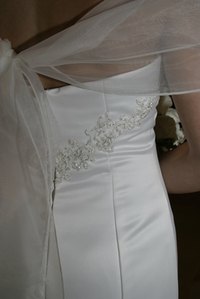 Adding panels to a wedding dress allows you to make a dress that it is too small fit like a glove, increase the fullness of the wedding gowns skirt or add color. The difficulty of adding panels depends on the type of gown. A-line gowns are the most easy dress to alter. If sewn properly, panel additions will not be seen. However, if you desire you can add a splash of color into your wedding dress with a different colored fabric panel.
Things You'll Need
Sewing pins
Seam ripper
Needle
Choose the fabric you wish you use. If you have made other alterations to your dress, such as large hems, you might be able to use that fabric for the panel. This ensures that you have an exact fabric match. If you cannot get the same fabric, you should take a fabric sample to your local fabric store and get as close of a match as possible so the additional panel will not be noticeable. If you are choosing a different color to add into your dress, use the same type of fabric as the original so the dress has the same sheen and finish.
Place the dress on a clean, flat work surface. Make sure that you have enough room to move the dress without knocking items over or the dress getting stuck on objects. You do not want to cause unnecessary accidents such as stains or rips.
Plan where you want to add the panel. Before you remove a single stitch, you should know the number of panels you need and where you want them placed. Once you have this planned, you can begin removing seams if necessary. Remove the seam for one panel at a time using your seam ripper.
Cut a triangle panel of fabric to the appropriate length and width that you need. Cut the piece of fabric with an excess of one inch of fabric on each side for hems.
Turn the skirt of your gown inside out and pin the fabric panel to the gown. The pins should be inserted where you plan to stitch the fabric together, in the one-inch of excess fabric you allocated to a hem. Begin at the bottom of the gown and stitch the panel to your gown. Finish the one side before starting to start down the other side of the panel. Repeat this step if you are adding additional panels. If your gown has already been hemmed, you should redo the hem so it is continuous across the new panel or panels you have added.
Trim any excess fabric so the skirt lies smooth. You can press the seams using an iron to ensure that the new panel flows with the rest of the skirt. Ask the fabric or dress store what temperature is recommended to use when ironing the dress to ensure you do not scorch the fabric.