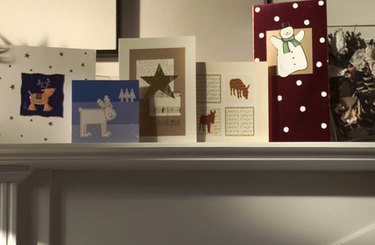 Sending Christmas cards to soldiers is the perfect holiday activity for classrooms or families. One easy way to ensure that your cards end up in the hands of an active duty or recovering soldier is by sending it through an program called "Holiday Mail for Heroes" which is operated by the American Red Cross. The Red Cross began the program in 2007 and works in conjunction with Pitney Bowes to collect cards from all across the United States and distribute them to soldiers, veterans and their families.
Holiday Mail for Heroes Program
Step 1
Select one or more Christmas cards that you want to send to soldiers. Entitle your card with a generic term such as "Dear Soldier" or "Dear Service Member, Family or Veteran." Consider including a short message of gratitude to the soldier for his or her service. Express your appreciation for his sacrifice. If you like, you can purchase a Christmas card through the American Red Cross for $25. The $25 is a donation that goes to support the U.S. military.
Step 2
Address your envelope as follows: Holiday Mail for Heroes P.O. Box 5456 Capitol Heights, MD 20791-5456 Postmark your card no later than Dec. 10. Cards postmarked after Dec. 10 will be returned to the sender.
Step 3
Ensure that your card meets all "Holiday Mail for Heroes" guidelines. Guidelines include limiting your cards to 15 per person or 50 per school class. If sending multiple cards, bundle them into a larger envelope. Don't send letters, care packages or monetary gifts. Don't include your personal contact information. Keep your card free of glitter and additional inserts of any kind.