Paper (optional: Christmas-themed stationery)
Pen
2 Letter-size envelopes
1 Large envelope
Postage
One of the joys of being a child during Christmastime is the belief that Santa Claus will come down the chimney with a sack full of presents. Because Santa has so many children to visit, many kids like to write a letter to Santa to ensure he knows what's on their wish lists. Here's how and where to address a Santa letter so kids can send it to Santa and get an official reply from the jolly man himself.
Step 1: The Santa Letter Salutation
Begin the letter with "Dear Santa" followed by a comma. With neat handwriting, have kids tell Santa about themselves, including their age and whether they are a little boy or girl. Santa will also be interested to know if they have been naughty or nice this year.
Step 2: Tell Santa What You Would Like for Christmas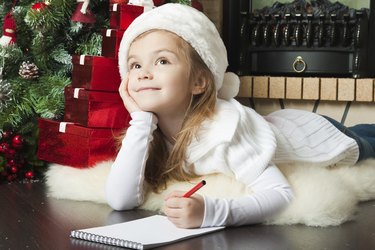 Have kids tell Santa about what they want for Christmas. Explain that it's important to not make the list too long, as Santa has to carry a lot of presents in his sleigh. Encourage them to also ask for non-material things like spreading happiness or peace around the world.
Step 3: Teach the Child the Importance of Thank You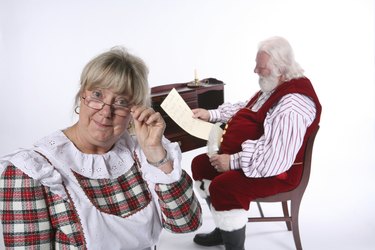 Express the importance of thanking Santa for his generosity. Tell kids they should ask Santa how he's doing and say hello to Mrs. Claus, the elves and the reindeer. They can also put in a good word for their siblings or friends.
Step 4: Sign and Seal the Letter to Santa Envelope
End the letter with "Sincerely" followed by a comma, and then the child's name. Fold and insert the letter into an envelope and seal it. Place postage on the envelope and address it to Santa Claus, North Pole. Kids can either drop the letter in a regular mailbox or in a special letterbox at stores who offer them during the holiday season.
Step 5: Write Santa's Reply
When kids are not present, parents can write a reply letter signed by Santa. Be sure to include personal details about your child's age, hometown and notable achievements/behavior. To get the letter postmarked from the North Pole, place the letter in an envelope addressed to your child, with a return address from Santa Claus, North Pole. Seal it, put an appropriate amount of postage on it, and place it inside a larger envelope. Affix the required amount of postage on the larger letter to Santa envelope and send it to:
North Pole Postmark Postmaster 4141 Postmark Dr. Anchorage, AK 99530-9998
Step 6: Hurry! Santa Must Receive Your Letter by Dec. 15th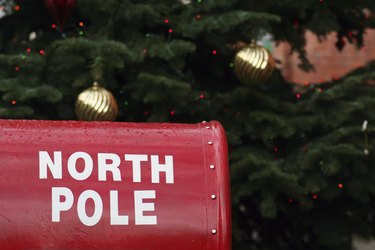 As long as the postmaster receives your self-addressed stamped letter to Santa envelope by December 15th, they will postmark it from the North Pole and mail it back before Christmas. There are also paid services, such as SantaMail, that offer personalized letters from Santa with the official postmark from the North Pole. They also guarantee delivery before Christmas and give customers a 100% money-back guarantee. They have several different versions in both English and Spanish to choose from, in case you'd rather go that route.
Tip
Plan early. To ensure your letter from Santa arrives in time for Christmas, the letter to Santa envelope needs to be received by the Anchorage Postmaster by December 15th.