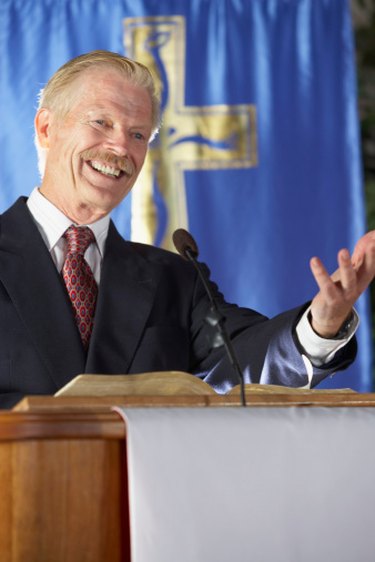 Members of a church's congregation often choose to show their pastor that he is appreciated through gifts and recognition. Many churches dedicate a day or week for pastor appreciation. This is a time where members of the church show him that they appreciate all he does by offering him a gift.
Cards
Sending a card to your pastor to let him know that he is appreciated is a common activity among church attendees. Many churches even organize an activity where all members and attendees of the church are asked to send the pastor a card to acknowledge their appreciation. The pastor's mailbox is flooded with cards and letters of appreciation, causing him to feel very valued.
Plan a Special Service
Choose a Sunday to be dedicated to pastor appreciation. During the service, organize different events to take place including appropriate Scripture passages and testimonies from members of the church regarding ways they appreciate the pastor. After these activities, present him with a plaque that has a special saying on it along with his name and the date it is presented.
Gift Certificates
Gift certificates are often given to pastors as a way of showing appreciation. Many pastors enjoy receiving gift cards for book stores, online stores, gas stations and restaurants. They are purchased in many different denominations and can be inserted inside a card.
Weekend Getaway
For a group gift, purchasing and planning a weekend away for the pastor and his wife, if he is married, is an idea. Plan a location he would like to go and organize the details of the trip. Include a gas gift card to cover the driving costs and purchase a restaurant gift card for a dining establishment in the area of the getaway. This is a large gift that usually requires several families to chip in to cover the costs.
Engraved Items
Engraved items are gifts often given as a way of saying you appreciate your pastor. Engraved gifts come in many different items including plaques and clocks. The pastor can display his engraved gift in his home or office.