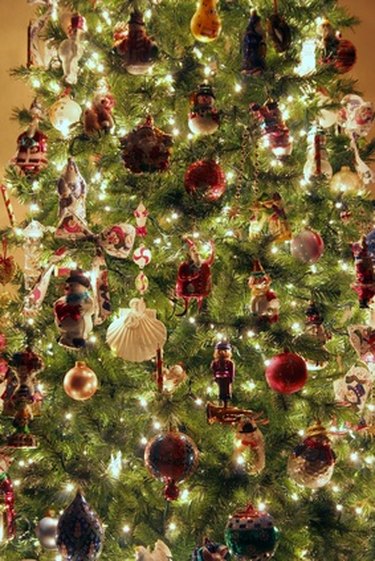 Trees do not always come with bases. If the one you bought did not come with a stand or if it broke, you cannot just stick the tree on the floor. It needs a stand to be safely supported. Instead of having to buy a stand, you can make a DIY wooden Christmas tree stand that is functional and aesthetically pleasing.
How to Build a Tree Stand
To begin, you can cut four 6-inch-high pieces of two-by-fours and four 20-inch pieces of two-by-fours for the legs. Nail the smaller pieces onto the larger ones on the narrower ends, making them look like shortened letter "L"s. Then, stand the pieces on their sides with the smaller parts meeting in the middle. It should resemble a pinwheel with straight edges.
Before you drill holes for screws, make sure that the stand fits around your tree. You may have to adjust the pieces a few times. Mark where the holes have to go using a marker and then drill the holes. You can paint this wooden tree stand, or you can place a tree skirt around it.
If you have an artificial tree, you can add some pieces of scrap wood to the base to make a tight fit and keep going until the tree is stable. For natural trees, you will need to provide room for a water source in your tree stand. This can be as simple as an empty yogurt container in the center of the stand. Make sure that it is accessible on all sides. Once the tree is in place, the stand needs to be leveled. Put screws in the side, allowing them to enter the trunk. Water the tree with a small funnel attached to a piece of rubber hose to ensure you don't spill water on the floor.
Another Wooden Christmas Tree Stand
There are other tree stand styles you can use. One such style has a square base made from four sections of two-by-fours nailed together to form an open square. Then, a second set of two-by-fours are nailed together in a pinwheel shape to form the top of the tree stand. This second section must be placed on top of the base and lined up so that it is flush with the opening. It should be centered on the base and nailed down.
The opening for the stand should fit snugly against the trunk. You will also need a water source if you have a real Christmas tree. After the holidays are over, you can mark the wooden pieces to indicate how the tree stand was put together to make things easier the following year. Your tree stand can be taken apart quickly with a drill, and you can store it safely until next Christmas. Another benefit to building this particular stand is that you can adjust the opening based on the size of the tree trunk.
Another Tree Stand Design Style
There are even more Christmas tree base designs available online. Another popular choice starts with two crossed one-by-fours that are screwed together, with wooden supports underneath. Then, make a taller, vertical wood support from four pieces of wood. The trunk goes in the middle. This vertical part is supported by four wood braces, which are screwed in. Use waterproof glue on all of the joints for added stability.