Things You'll Need
Dowel

Wood stand

Drill

Wood glue

Cardboard

Scissors

9 yards nylon net

Needle

Crochet thread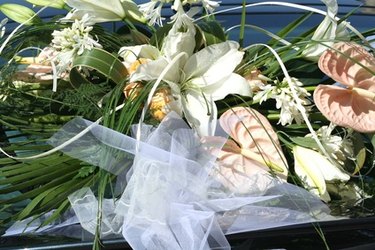 Using nylon net to create a whimsical Christmas tree has been a popular craft for decades. One vintage magazine called these charming decorations "Fairyland Net Trees" for their gossamer appearance. You can use them as centerpieces for your table by color coordinating the tulle you use with your china pattern, or cluster them on a mantelpiece for a retro look.
Step 1
Buy a dowel 1/2 inch in diameter and 18 inches long. Buy a piece of 1-inch thick, 8-inch square wood base to hold the dowel. Drill a hole 1/2 inch deep and 1/2 inch in diameter in the wood square to hold the dowel. Put wood glue in the hole before inserting the dowel. Allow to dry overnight. Paint the dowel and base in the desired color.
Step 2
Cut a circle out of cardboard 8 inches in diameter. Cut a hole in the center and slide onto the dowel. Cut two pieces of nylon net, each 12 inches wide and 72 inches long. Fold in half so that the net measures 6 inches wide and 72 inches long. Thread your needle with an 80-inch piece of crochet thread. Tie a knot in a piece of crochet thread, leaving a tail of about 3 inches on the end.
Step 3
Baste the two sides together 1/4-inch above the fold. Once the net is basted, gather the fabric as tightly as possible so that the net forms a donut shape. Tie the two thread ends together to keep the net in a tight circle. Use the hole in the middle of the net circle to slide it on to the dowel. The cardboard circle will keep the net in position. Repeat with the second piece of 72-inch by 12-inch fabric.
Step 4
Make the next two layers 11 inches wide by 72 inches long. Repeat the same process of folding, basting and gathering. Reduce each subsequent pair of layers by 1/2 inch. The final two layers should be 1/2 wide by 72 inches long.
Step 5
Use your fingers to fluff the layers of fabric into the desired shape. You can put hot glue on the edges of the net to affix sequins, beads or glitter if desired.