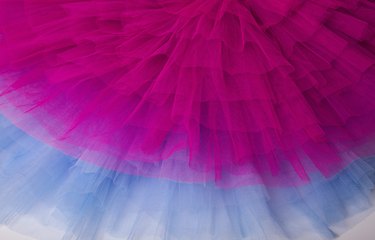 Tulle is a fine, mesh-like fabric used for craft projects, clothing, and dance or bridal wear. It's sheer with a crisp feel, although the stiffness of tulle varies with its fiber and weave.
Crafting Tulle
Inexpensive nylon tulle is used by crafters to make items such as wreaths, gift wrap bows, children's tutus and party decorations. This tulle is stiff, so it holds its shape well, but it's less durable than dressmaking tulle. It can also feel scratchy when worn. Crafting tulle is available in bolts as well as ribbon-like spools that are usually 6 to 12 inches wide.
Dressmaking and Bridal Tulle
Better quality tulle, made from silk, rayon, nylon or cotton, is used for women's fashion and formal wear, professional ballet tutus, and bridal gowns and veils. Silk tulle has the softest drape. Stiffer nylon tulle is used for pancake-shaped classical ballet tutus. Bridal illusion is a nylon or polyester tulle that is very sheer with a medium amount of stiffness and drape. Dressmaking tulle is most commonly available in bolts, but can also be found on ribbon spools.
Specialty Finishes
Both dressmaking and crafting tulles are available with sparkle or shimmer finishes. Dressmaking tulle is also available with a dotted finish or as a base for lace fabric.