Things You'll Need
1 pound pasta ruffles

8 ounces zesty Italian salad dressing

1 small can sliced black olives

1 small head fresh broccoli, chopped

8 ounces mozzarella cheese, cubed

1 green pepper, chopped

1 red onion, chopped

7 Roma tomatoes, diced

5 tablespoons salad seasoning blend that includes Romano cheese, paprika and pepper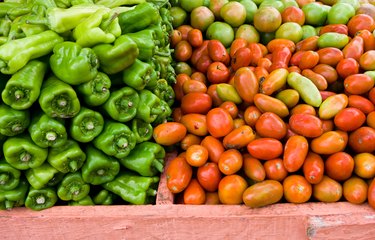 Most people enjoy pasta salad, making it a perfect dish for a potluck or other gathering. This refreshing, colorful, cold salad is easy to make and delicious. There are five vegetables in it, giving the salad a boost of nutrition. Pasta salad tastes best if it can sit overnight to allow the flavors to meld. Serve with hamburgers or hot dogs for an easy summer meal.
Step 1
Cook the pasta ruffles according to the package directions. While the pasta is cooking, wash all of the vegetables. Once the pasta is ready, drain the water and allow the noodles to cool for a few minutes.
Step 2
Chop the head of broccoli into bite-sized pieces. Chop the red onion and green pepper, and dice the Roma tomatoes. Mix all of the vegetables together in a large bowl.
Step 3
Pour the cooled pasta into the bowl with the vegetables. Add the salad dressing and the salad seasoning. Stir thoroughly and then refrigerate at least 2 hours, preferably overnight.
Step 4
Add cubed mozzarella cheese and the sliced black olives, and then stir the salad well before serving.
Tip
If you like cucumbers, chop 1 or 2 up and add to your vegetable mixture.