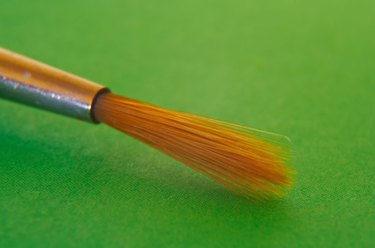 The Grinch is an intimidating, furry green creature created by Dr. Seuss in his book "How the Grinch Stole Christmas" in 1957. This story is a classic, loved by all ages. In 1966, "How the Grinch Stole Christmas" appeared on a television special. Due to the Grinch's fan-base, Dr. Seuss used him as a character in future stories. In 1977 the Grinch appeared in "Halloween is Grinch Night" and in 1982 he appeared in a story with "The Cat in the Hat." "How the Grinch Stole Christmas" was turned into a big screen movie in 2000 with Jim Carrey starring as the Grinch. The Grinch is played by dozens of other people every Halloween and Christmas. Making a Grinch mask is a fun kid-friendly craft that will come in handy during the holidays.
The Grinch&amprsquo;s Character
The Grinch was originally created as a children's book character but gained wide popularity quickly. The Grinch has a signature unpleasantly twisted face. This unpleasant disposition stems from his apparent alienation from Whoville as a younger creature. Every year at Christmas, the Grinch's hatred grows as he, with bitter envy, watches the town run around noisily merry. He attempts stealing all of the towns presents, but after he realizes the true meaning of Christmas and sees the endurance of human compassion and love, his anger melts.
A Time for Creativity
A Grinch mask craft is a fun way for you and your kids to pass time creatively. Not only that, it can make an inexpensive Halloween costume or Christmas project. Unless an adult is obsessed with the Grinch, this craft is best for kids between the ages of 5 and 12. Children under 5 should be given paper masks to color to avoid harm and extra hassle. Younger kids will have to be monitored when using the glue gun. Creating a tangible mask helps children remember the story.
What You Will Need
What you need for the Grinch mask craft depends on how much you are willing to spend and how elaborate you want this project to be. For a quick craft with a group of kids, it will be easier to print paper templates and let them color, cut and wear. For a more elaborate mask, you will need a mask template that can be found in arts and crafts stores, or find a dog or cat mask. You will need green paint, fur, fabric and hair, hot glue, school glue, medium-sized flat black bead, scissors and a string of yarn or elastic.
Decorate Your Mask
Print out a paper Grinch mask template so you have an image to work from. Paint the mask template green. Use the black bead for the nose. Hot glue green hair to the top of the mask for the Grinch curls. Spread a little school glue on the cheeks of the mask. Apply fur. Use the string or elastic for the back of the mask.
Finish the Mask with a Costume
The ultimate Grinch mask craft is to turn it into a full costume. All you have to do is find a Santa suit and temporarily dye your hair green. This makes this craft extra fun for adults. Have fun with your kids by giving them a visit from the Grinch.