Things You'll Need
3 or more round nesting tables

Saw

Potted poinsettias (10 to 20, depending on their size and the size of your tree)

Non-skid cups for table legs

Large red velvet bow

Wooden skewer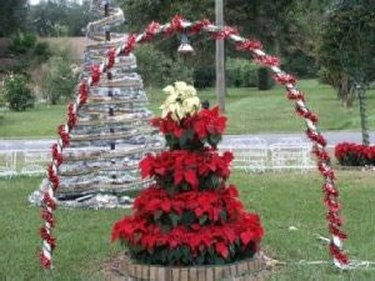 A live poinsettia tree is a beautiful addition to any holiday home. These striking arrangements are easy to build and look beautiful in the corner of a room or in a large entryway. You can place them on a large table or allow them to sit on the floor. Just make sure that you keep them watered and that they get enough light so that your poinsettia tree will live throughout the holiday season.
Step 1
Stack the round nesting tables one on top of the other from largest to smallest. This will let you see if you will need to adjust the height of the tables. If the poinsettias are tall enough to reach the top of the next table when sitting on the one below, then you can move on. If not, you may need to shorten the table legs until the tables are slightly shorter than the poinsettia plants.
Step 2
Use the non-skid cups to hold the tables firmly one on top of the other. These cups are usually used to prevent tables and chairs from sliding in hardwood rooms. In this case, place them on top of a table, then place the next smallest table's legs in the cups. The cups will prevent the tables from falling out of their tower formation.
Step 3
Arrange the potted poinsettias around the edges of the round tables. Once you know if you have enough plants, you should fill in the centers of the tables as well, if possible. Start with the top table and work down. The poinsettias should be placed close together so that you cannot really tell that they are on tables. When you are done it will look more like a poinsettia pyramid than a table tower.
Step 4
Tie the red velvet bow to the top of the wooden skewer. Make sure that it is as close to the end as possible.
Step 5
Stick the skewer in the center of the top poinsettia. The bow will take the place of a star on a traditional Christmas tree. Now all you need to do is keep your poinsettias healthy and your poinsettia tree will flourish indefinitely.
Warning
Do not allow pets to eat poinsettias, as the leaves can make them sick or even kill them.