After a long, dreary winter, the first spring blossoms are downright good for the soul. The problem, if you're just starting your garden, is that many of the most popular spring flowers – daffodils, tulips, crocuses, narcissus, hyacinths – need to be planted in fall. While you certainly can (and should) plant some of those later this year, we've compiled a list of flowers you can plant this spring to beautify your garden right away.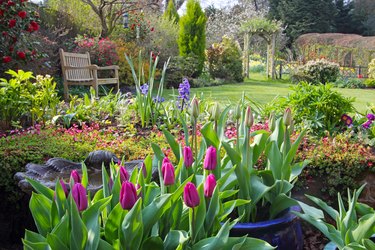 Sweet alyssum is a versatile ground cover, which you can direct-seed in early spring or start indoors and then transplant. It's everything you could want in an edging plant for your garden beds: it comes in a range of colors, it's fragrant, it blossoms from spring until fall, it self-seeds readily (so it comes back year after year even in cold climates), and it even tolerates partial shade. It also attracts pollinators like bees, who appreciate early flowers even more than humans do.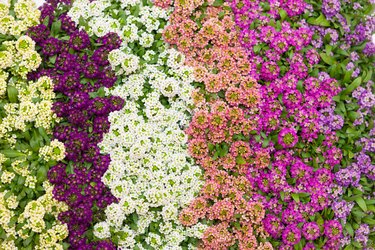 It's almost impossible to look at a bed of pansies or violas without feeling cheered up. They're bright and colorful and thoroughly charming, just what you need after a long winter. They come in just about every color imaginable, from reds and yellows to whites and purples and even a striking black, or you can simply order a big set of mixed seeds and enjoy the tumultuous blend of colors. It doesn't matter much whether you order pansies or violas or both; pansies are just one kind of viola. You can direct seed once the soil is workable, or transplant when the soil temperature reaches 45 degrees Fahrenheit.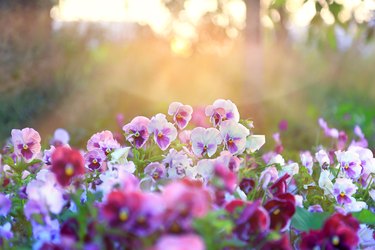 If you're a vegetable gardener, wallflowers' distinctive four-petal blossoms will tell you right away that they're brassicas, the same family as broccoli and mustard greens. Like their culinary kin, wallflowers are comfortable with cool weather, blossoming early and continuing to bloom until the weather gets hot. They're everything you could want in a flower: they come in a range of colors, in heights from under a foot to four feet or more, and they'll cheerfully keep coming back for years. Some – but not all – are extremely fragrant, as well.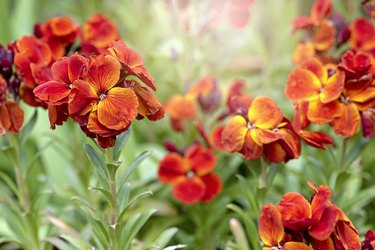 You may know these as twinspur, but whatever you call them they're a beautiful addition to your flowerbeds. They're a small plant that piles up colorful blossoms the way foam piles up in a bubble bath, and they'll produce those lavish displays right up until the hot weather arrives. Diascia typically grow to 8 or 10 inches in height but they spill over, so plant them at the front of your beds with something taller in behind. Available colors range from whites and delicate pastels to bold oranges and corals.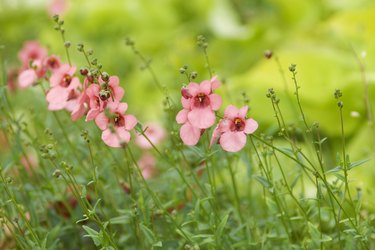 No matter what you look for in a blossom, there's likely a primrose (or another member of the extended primula family) that will fit the bill. They come in every color imaginable, in simple blossoms that resemble their wild counterparts, in pom pom-like clusters or in rose-like double blossoms. Whichever kind you buy, primroses and primulas favor at least partial shade and a relatively moist soil, like they'd find in their natural forest-floor and semi-forested habitat. Mulching them with leaf mold or pine needles will make them feel right at home. After the flowers are spent you can deadhead them for continued blossoms, or leave them in place to self-seed.
Carnations are the best-known dianthus, but for the most part they're a summer-blooming flower. For spring color you'll want to choose early-blooming examples of the old-fashioned varieties known as "pinks," which stay less than a foot tall, or "Sweet William," which ranges from 1 to 2 feet in height. Start them indoors in early spring and plant them out once the risk of frost has passed, or seed them this summer for next year. Dianthus prefer full sun, though they'll tolerate some shade. They'll continue to blossom well into the summer, attracting butterflies and pollinators. Sweet William has an especially wonderful scent, filled with spice-like notes.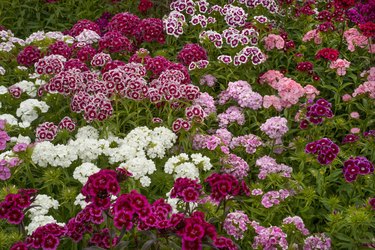 Snapdragons rival pansies as the cheeriest of spring blossoms. Their little mouth-like blossoms appeal to the kid in everyone, looking like they were designed especially to sing happy songs in a vintage animated film. Bees and other pollinators love them just as much as humans do, so plant them lavishly. You can direct-sow them after the last frost (be careful, the seeds are tiny!) but for early blooms it's best to start them indoors 6 to 10 weeks ahead of time and then plant them out once the danger of frost has passed. The blossoms grow on long spikes, reaching up to 18 inches in height, and they last beautifully as a cut flower. They'll happily self-seed if you leave some spent blossoms in place on the plants.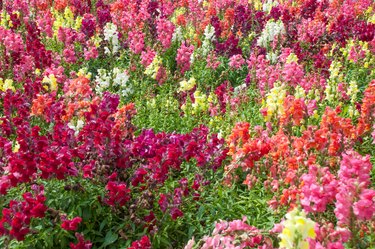 There's a petunia for just about every situation. Big, showy grandifloras work well in planters and hanging pots, smaller multifloras give masses of color in your flowerbeds, while tiny millifloras and sprawling "wave" petunias work well as edging plants and ground covers. They come in single- and double-blossom cultivars, and in every color imaginable (even black!). Millifloras are the earliest of the petunias, but for spring blossoms you'll need to start any petunia indoors 6 to 10 weeks ahead of time and then plant them out when the weather warms up.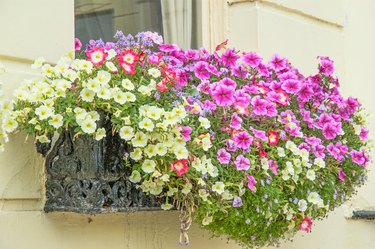 Some of the earliest spring blooms of all are the bell-shaped, deep yellow blossoms of forsythia. It's a fast-growing shrub, at 14 to 24 inches per year in good growing conditions, so be sure to pick a variety that's the right size for your space as well as one that suits your climate. To have blossoms this year you'll need to buy a potted forsythia bush, ideally in a 1-gallon pot or larger (the bigger and more mature the shrub, the likelier it is to blossom this spring). Even if you don't succeed in getting blossoms this year, by next spring you'll be rewarded with an explosion of golden blossoms. Some cultivars have appealing foliage in fall, as well.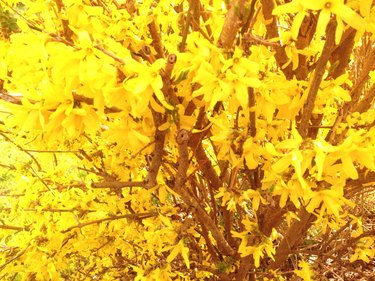 Like forsythia, a flowering quince represents a long-term investment in spring color. For a realistic (if not guaranteed) shot at blossoms this spring, you'll need to order a shrub in at least one-gallon pot. Quince blossoms come in vivid shades of red, coral and hot pink, with or without thorns, and with single or double blossoms. Cultivars vary in mature size, from 3 to 8 feet in height and sprawling for as much as 10 to 15 feet (over decades, mind you!) if not pruned back. Some varieties produce fruit, which are too hard and sour to eat raw but make excellent preserves.