June is Pride Month, a time where LGBTQ communities join together to celebrate the freedom they have to be themselves and love whomever they choose. In honor of the occasion, we have rounded up 5 DIY creators proudly embracing their identity and making an impact in the DIY, home and handmade space with the platforms they have built. By using their influence to share tips and tricks with people around the globe, these innovators are changing the world we live in for the better.
Check out our spotlighted trailblazers: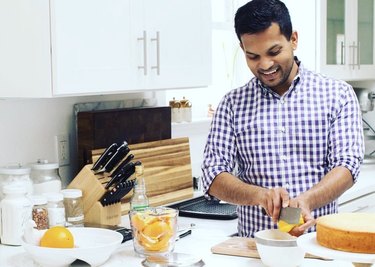 As an author and food connoisseur, Nik Sharma has paved his way into the culinary industry and shared essential recipes in his cookbook ​The Flavor Equation: The Science of Great Cooking​. With the success he's worked hard to achieve, Nik was also able to start a blog and transition into a full-time food writing career.
"As far back as I can remember, even as a child I've always loved to be in the kitchen and tinker. It's a place where the motion of preparing something, calms me down and provides grounding," he tells eHow, revealing the process has helped him come into his own. "Cooking is my form of expression and I can express myself through my food, the way I see fit. It's freeing because as a creative person, it's a space that helps me be me without any shackles bound by norms. I started out in a conventional career in biomedical research and on the side, I explored the possibility of food and recipe writing through my blog, A Brown Table. My food, writing and photography are all influenced by my experiences and each in their own way reflect that​.​"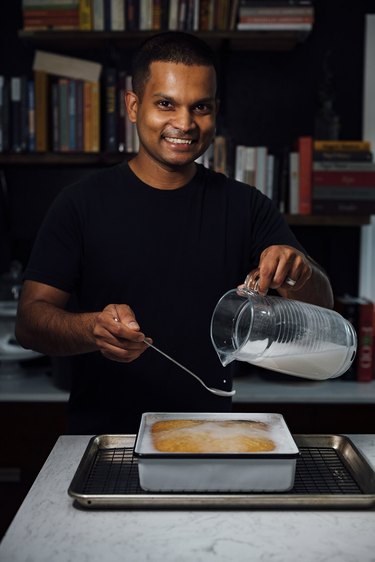 Sharing the wealth! If you haven't picked up a copy of Julia Turshen's ​Simply Julia​ cookbook, you're missing out. The influencer loves to talk all things culinary and she's also got a compelling podcast called "Keep Calm and Cook On" where she speaks to some of the most interesting people in and around food.
"I started cooking before I can remember — when I was a kid, my nickname was Julia THE Child. I have always wanted to be in the kitchen," she reveals to eHow. "Cookbooks might not be an obvious flag for the LGBT community to fly. But it's exactly that that makes cookbooks so unexpectedly powerful. They reflect our everyday. They normalize anything that is other. They live in intimate spaces and moreover people can cook from them! They bring you not only onto their coffee tables, but into their bodies and their memories. Cookbook readers put out a veritable welcome mat for cookbook authors. And with this access we get a chance to tell our stories and create more visibility, understanding and even change. This is why I share so much about my life as a proud gay woman and write so much about my wife in my recipes and stories."
Denisio Truitt also has a resume to be proud of. She's a skilled visual artist, dressmaker, designer as well as founder and owner of the brand Dopeciety, which continues to grow and garner attention.
Her work has been featured in the dramatic series ​Queen Sugar​ and 2019 movie ​See You Yesterday​. Denisio's focus is bespoke fashion, specifically for the stage, bridal and formal event, according to her blog, and she's not afraid to push boundaries with her designs. "My aim is to make garments that celebrate and exalt the human body in its infinite forms, with an emphasis on the feminine. I make clothing for individuals who want to feel beautiful and perhaps a little dangerous," Denisio writes in her bio. As a career woman, she is always finding new ways to expand her brand by accepting new clients for custom pieces on a limited basis.
Beau and Matt are the ultimate team. They are based in New Orleans, and are always sharing the latest and greatest while writing about home design, DIYs and ​seriously delicious​ recipes via their shared blog.
The couple often posts new content to Instagram and TikTok, so you'll never be short on inspiration. On top of that, Beau and Matt have personality to boot. "We love beautiful homes, delicious food, and any form of gay reality TV drama — equally. Matt's the bald one, Beau's the sassy one," the dynamic duo writes in their blog. As for how their dreams became a reality, the pair said, "about a year into our relationship, when Beau was a senior in college and Matt was a college grad working the latest of late nights at a restaurant in the French Quarter, the idea to start a blog came around." Beau and Matt always express their gratitude for their online community, whom they, "get to share this adventure (and all of our adventures!) with."
Ggggrimes' stunning visual art and illustrations are not only compelling to look at (forgive us if we can't take our eyes off it), but also modern and heartfelt. The artist says it's been "so rewarding" to make art a career after years of preparation and dedication.
"I've always been an artist from the time I was a kid! I had the bad manga phase and emo drawing phase when I was much younger, and as a teenager I created abstract watercolor paintings. I took breaks with art for months to years ... After I graduated, I told my mom who I still lived with at the time 'give me a year to see if I can get anywhere with art,'" Ggggrimes tells eHow. "By the end of 2019, I was making enough money with my artwork to move out. I learned about social media, website design, and business all at once. I don't regret a single moment of it," the artist continues.
"So much of my artwork is an open love letter to my partner, showing how much I love them and how queer love feels. I have so many queer people of color telling me that my artwork means a lot to them. As a Black queer person from the Bronx who grew up around other cloistered queer Black people and PoC, that means the world to me."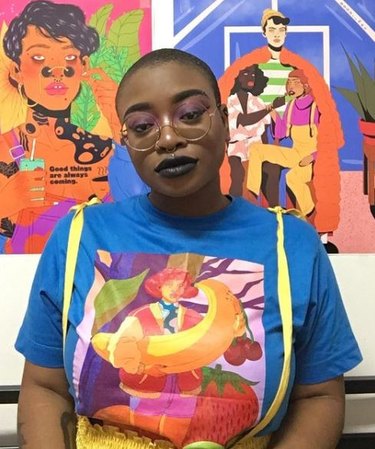 By sharing their stories and utilizing their talents, these LGBTQ creators are just a handful of the many people in the community inspiring others through their work in the DIY and handmade space. These diverse trailblazers prove that representation is important and hard work pays off!