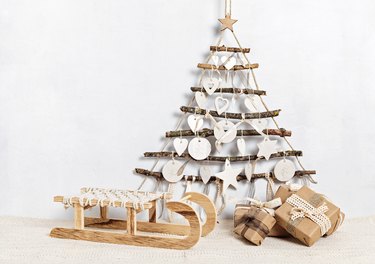 Move aside, evergreens and artificial trees. Whether you're tight on space—both real and artificial Christmas trees command a lot of square footage—or simply looking for a non-traditional tree this holiday season, there are plenty of out-of-the-ordinary options for you to consider. Christmas tree alternatives come in a variety of materials, from wood to macrame, in a wide range of sizes, too, so no matter the amount of floor space you're working with or the style you're going for, you're in luck.
We shopped for the coolest, most creative alternative Christmas tree ideas that you can add to your online shopping cart today. Maybe you're looking to replace your traditional Christmas tree altogether. Or, maybe you're looking for an additional source of holiday cheer, with a different type of tree to add a festive feel to another room of your house—an entryway, perhaps, or one that's not so pokey to a kid's bedroom. We've got you covered with decorating ideas you're going to love.
What to Consider When Buying an Alternative Christmas Tree
‌Size:‌ As with all online purchases, make sure you read the dimensions of the tree carefully before clicking "add to cart." Whipping out a measuring tape is never a bad idea. Alternative Christmas trees are just that, alternative. They're different in material, shape and size, so before it arrives on your doorstep, ensure you have a good visual of what's going to arrive.
‌Where You'll Display It:‌ Generally, it's pretty obvious where a traditional Christmas tree will live: this corner of the living room or the other corner of the living room? With alternative Christmas trees, depending on their size, your options of where to display them open up greatly. Some are tabletop-sized, while others are hung, requiring wall space. Before you get too excited, be sure you're confident that you'll have plenty of potential homes for it. You wouldn't want to be stuck thinking, "Where am I going to put this?" after it's arrived at your door.
‌How You'll Store It:‌ Unlike evergreens, which are taken to the curb come New Years, you'll need the space to store an alternative Christmas tree so you can enjoy it year after year. Before buying, be sure you know how and where you'll keep it until next December rolls around. Does it disassemble? Does it lay flat? If made from a soft material, can you fold it? Do you have the proper bins to keep it in? Ask yourself all of these questions before committing to a Christmas tree of any kind.
Scroll on to discover 10 alternative Christmas tree ideas that will bring an artistic holiday spirit into your home—no tree stand, tree toppers and no cleaning up of pine needles necessary.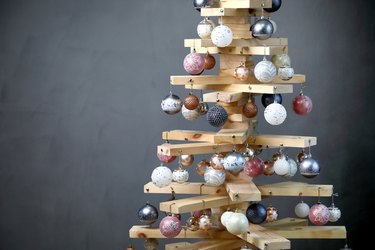 Sweet, simple and with a star on top—if that's the holiday decor look you're going for this Christmas, we found the alternative tree for you. This wooden Christmas tree would make for an understated yet sophisticated focal point in any room this December. Add a set of ornaments and voila! Consider your tree decorated.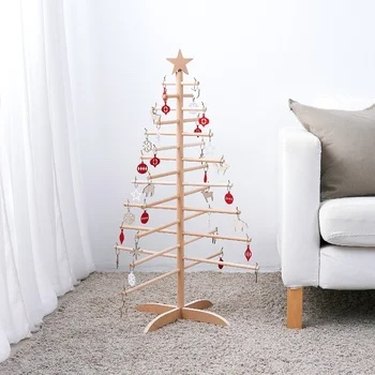 2. Alternative Oak Christmas Tree
And you thought you had fun decorating a traditional Christmas here…Wait until you discover all the ways you can arrange and hang ornaments on this wooden oak tree. Each branch is sanded smooth, so don't worry about slivers. Each branch can also be moved independently, so you can arrange them DIY Christmas tree-style in a variety of ways—or even mix it up on a day-to-day basis. One day it can be a flat tree, the next arranged in a spiral; one day with your favorite ornaments, and the next day bare.
3. Macrame Christmas Tree
Lacking floor space? Instead of a bulky traditional Christmas tree, opt for a slim wall hanging, like these oh-so-charming macrame designs. These handmade hanging Christmas trees are available in three size options and dozens of yarn colors, so there's no limit to the look you can achieve. Hang a small evergreen-color one in a tight space or arrange a series of them in a rainbow of colors along an entire wall. All you need is open wall space—whether over a fireplace, in an entryway, or as a sweet, soft holiday touch to a nursery—and a little bit of imagination. Perhaps best of all, these trees are incredibly easy to store away flat so you can enjoy their boho touch year after year.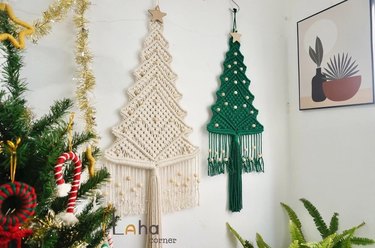 4. Red Co. Ornament Christmas Tree
Even if space is limited, and you don't have an entire corner of your living room to dedicate to a towering Christmas tree, that doesn't mean you can't enjoy a mini tree. This tabletop tree could sit on a side table, dresser or even as a centerpiece on a dining room table. Then decorate it as fully or as minimally as you'd like, whether with traditional Christmas ornaments or extra special ones, perhaps heirloom ornaments or ones from your travels. (It'd also make for a pretty jewelry holder, if you'd rather nix tree ornaments altogether.) This design is available in two heights, either 25 or 36 inches tall, and six finishes: black, gold, bronze, copper, silver or white.
For simple Scandinavian-inspired vibes, nab one of these wooden dowel Christmas trees. It'd provide you a minimalist space to hang Christmas cards or Christmas tree decorations of any kind without the bulk of an evergreen. Not only would it be easy to hang, decorate and disassemble, but it'd be ultra easy to store, since it'd take up nearly no room in your decorations bin.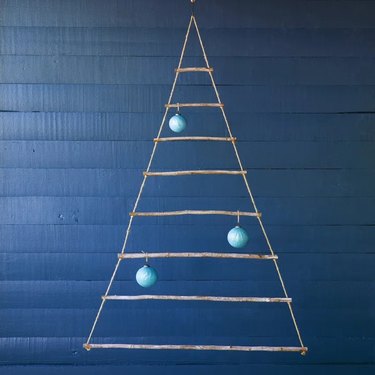 6. Rustic Wood Christmas Tree
For a versatile alternative Christmas tree, consider one that is both indoor and outdoor-friendly, like this one made from reclaimed wood. It's hand-cut by an Etsy artist, then painted, lightly sanded and topped with a sealant for a charming, rustic look that can withstand Mother Nature's snowing and blowing. Best of all, it's already pre-lit with Christmas lights, and the base comes off for easy storing. Has a Christmas tree ever been this easy? (We're going with no.)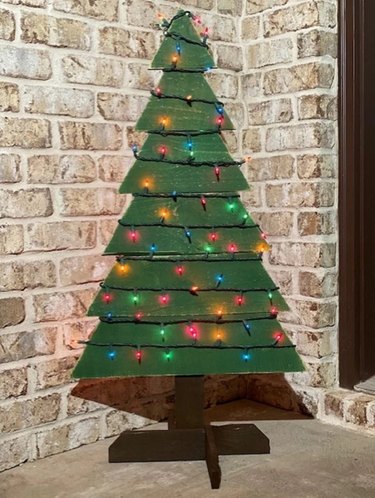 7. Wood Wall Christmas Tree Shelf
Fun and functional—our favorite combination of traits for decor of all kinds. With this shelf that's the shape of a Christmas tree, you can load it up with little Christmas decorations of all kinds. While it'd fit on just about any wall, how about dedicating this one to an entryway, for a festive place to store your keys, or in a bathroom, which doesn't often get the decorating attention that other rooms do? Wherever you hang it and whatever you store on it, this tree shelf would be a subtle, sophisticated feel to any room.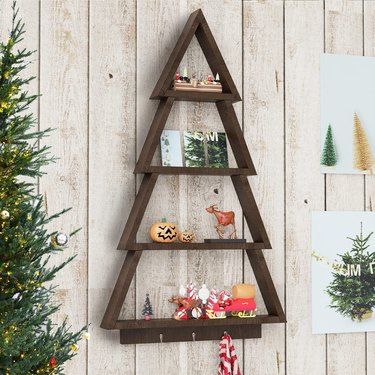 8. Bottle Brush Christmas Tree Set
When you're working with a small space and want to introduce a dose of holiday-themed greenery into it, you can never go wrong with a set of bottle brush Christmas trees. They bring texture, cheer and fun to any dining table, coffee table, dresser—you name it—without commanding much space or time to set up. Plus, you can't beat that price.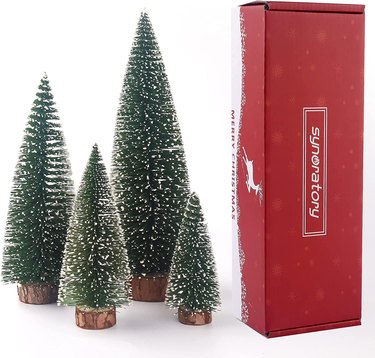 9. Colorful Wooden Christmas Trees
All is merry and very bright with this set of vibrant Christmas trees. They come in various sizes, color options, and sets so you can mix and match them along a mantle or table, or split them up into various vignettes around your home. Think of them as a DIY project that you don't have to DIY. Pair these fun Christmas trees, which are hand-painted in non-traditional hues and laser-cut to perfection, with a mantle-full of string lights for a standout display that takes nearly no time or effort to set up.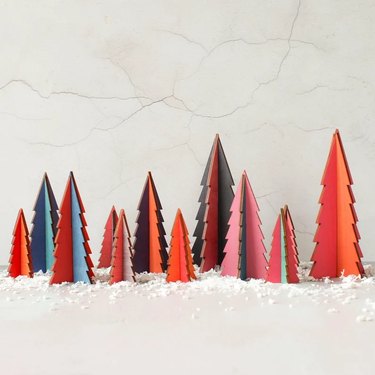 10. Stackable Nesting Three Tier Christmas Shelves
We get it: Christmas trees, even alternative ones, can be pricey, considering you only display them for one month of the year. Instead, you could invest in these nesting shelves, which, when stacked on top of each other, resemble a tree shape. The rest of the year you could split them up for individual use. Brilliant! Come December, string them with fairy lights, add a few small decorations and pat yourself on the back for buying a multi-purpose alternative Christmas tree.