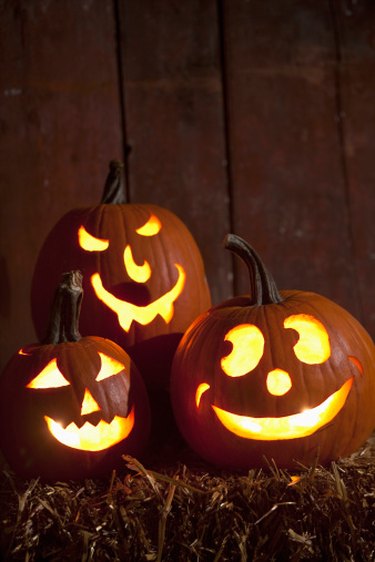 Churches often offer alternative programs such as carnivals, unhaunted houses and treat activities for children, youth and teens on Halloween. This allows those who do not celebrate Halloween with trick or treating or haunted houses a different way to spend the evening. Use object lessons with some tie to Halloween for the youth.
Pumpkin Patch Parable
Liz Curtis Higgs and Tommy Nelson created a book, "Pumpkin Patch Parable," as a Halloween object lesson. Organize your youth into groups of four and allow each group to choose a pumpkin to work with. Have them carve shapes, faces or other designs in the pumpkins after they remove the seeds and messy bits. Give them a candle or light to illuminate their pumpkin masterpieces. Explain that God carefully chose each one of them, cleaned them up and transformed them so that his light can shine through them. Use Scriptures such as Matthew 5:14-16 and John 8:12 to reinforce your object lesson.
Can You See Behind My Mask?
Provide materials to make Halloween masks or invite the youth to bring a mask with them to the event. Instruct the youth to put on their masks for the object lesson. Read Luke 11:37-44. Jesus accused the Pharisees of wearing masks and doing things in public to hide what they were really like inside. Have the youth talk about the kinds of things they may do to hide their secret sins from others, such as secret eating or doing drugs. Hebrews 4:12-13 declares that God sees what is done in secret and judges the heart and thoughts of the believer. You may be able to hide behind a mask to your friends and family, but you cannot hide who you are from God.
Lesson in a Graveyard
Take a walk through a graveyard and examine what people have carved on their tombstones. The youth might see words like "loving father and faithful husband" or "gracious teacher and friend." The words etched on the tombstones reflect how someone viewed the person buried there. Begin a discussion about the kinds of things each of the youth would like to see on his tombstone. Talk about what it takes to be a good role model or a respected person. Invite them to live their lives with the behaviors that lead to their desired epitaph.
Trick or Treat?
Wrap pebbles, fake bugs or wads of paper in candy wrappers. Pass them out to the youth as though they were expensive candy. Invite them to unwrap the gift. The students find they have been tricked and received bad treats. Read Matthew 7:9-11 and explain that God's gifts are always good. He gives his children the best gifts, not rotten tricks. Encourage the youth to name some of the blessings in their life. Lead them in a prayer of thanksgiving before you pass out the real treats.