As extremely popular children's entertainers for over 30 years, the singing and dancing group known as The Wiggles is beloved by multiple generations. The Wiggles all wear similar outfits consisting of simple, colorful clothing, and their signature looks are easy to copy using regular clothes with a few embellishments.
You might already own all the items you need to make a Wiggles Halloween costume. Otherwise, they're easy to find at a thrift or discount store, or you can even make them from scratch. A Wiggles costume is adaptable to all ages, and it doesn't need to be an exact match of the official character's costume to be instantly recognizable.
Wiggles Costumes for Anthony, Lachy and Simon
The three men in the current lineup (and the four in the original lineup) all wear the exact same outfit but with a different color shirt and pants stripes. Find a long-sleeved T-shirt with a high crew neck in a medium blue for Anthony Wiggle, deep red for Simon Wiggle or purple for Lachy Wiggle. Wear the shirt with plain black straight-leg, flat-front pants and black shoes. Anthony Wiggle and Simon Wiggle have brown hair cropped short, and Lachy has dark brown curly hair that is a few inches long. Consider choosing a character to match your hair type.
A few embellishments will make these basic outfits really look like official Wiggles costumes. The Wiggles wear black belts with a large belt buckle embossed with the Wiggles logo. Create one of these out of cardboard and attach it to a plain black belt. The Wiggles' shirts have shiny ribbons in the same color as their shirts appliqued onto their shirts and down the outer side of each pant leg. Purchase ribbons to match the shirt of your chosen Wiggles character and use fabric glue, iron-on hem tape or a sewing machine to add two stripes down each pant leg, two down each sleeve and two deep "V" shapes at the neckline of the shirt.
Emma Wiggle's outfit differs from Anthony, Lachy and Simon's because she wears a skirt, tights, dance shoes and a signature bow in her hair. You will need a yellow long-sleeved T-shirt for an Emma Wiggle costume and optional lengths of yellow ribbon to sew on the shirt in the same manner as the other Wiggles shirts. Emma Wiggle wears a shiny black full-circle skirt with a hem just above the knee, with two yellow stripes down each side. You might find a similar black skirt or sew one in a custom size following an easy tutorial for an elastic-waist circle skirt.
Complete the Emma Wiggle look with opaque black tights and any black shoes suitable for dancing. Emma wears her red hair in pigtails, with a signature big bow on the side of her head. Emma's bow is made up of a smaller black bow layered over a larger yellow bow, which you can replicate using store-bought, clip-in hair bows.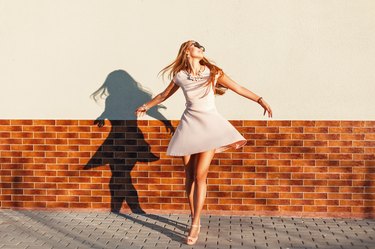 Captain Feathersword Costume
Another fun option for a child or adult Wiggles costume is the recurring character of Captain Feathersword. His outfit is a typical pirate's outfit, so it's easy to put together using a few store-bought costume items, items from your own wardrobe and thrift-store finds.
Wear a classic pirate's hat and black eye patch along with black pants and a white shirt, preferably with flouncy sleeves and collar. Captain Feathersword has a red vest with gold buckles and a purple cummerbund, which you can recreate by wrapping a length of purple fabric around the waist. Craft your own feathersword – a pirate's sword with a blade covered in colorful feathers – using cardboard or a plastic sword, hot glue and craft feathers.