Things You'll Need
Red gift wrap

White felt

Black cardstock

Glittery gold cardstock

Black buttons

Craft jingle bells

Hot glue gun

Tape

Scissors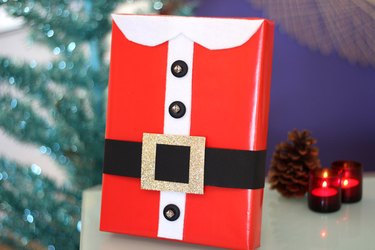 Here's a DIY gift wrap idea that puts the ho-ho-ho in the holidays. The gift box resembles Santa's red suit, complete with collar and belt. It just may be the best-dressed gift under the tree this season.
Step 1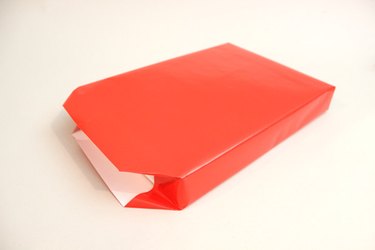 Wrap the gift box in red wrapping paper. While you can use regular tape to adhere the paper, double-sided tape can be hidden between the folded edges.
Step 2
To create the Santa suit's white placket, cut a piece of white felt that goes from the top of the box to the bottom. Hot glue this felt to the red wrapping paper.
Step 3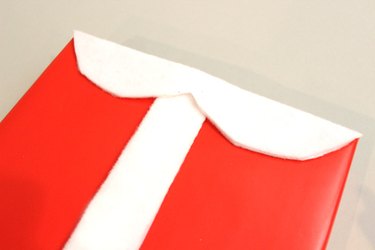 Cut a piece of white felt into a collar shape and hot glue it on the top edge, above the placket.
Step 4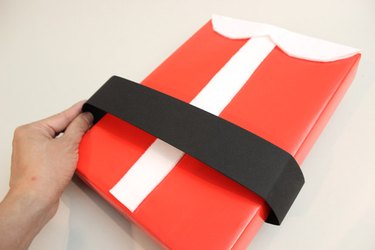 For the belt, cut a long piece of black cardstock or poster paper about 2 inches wide and long enough to completely wrap around the box. Crease the edges where it goes around the box. Set the black strip aside.
Step 5
For the buckle, cut a rectangular piece of glittery gold cardstock so it is about a 1/2 inch wider than the black belt. Cut vertical slits in the rectangle that are just long enough for the black belt to slide through. Wrap the belt around the box again and hot glue the ends together.
Step 6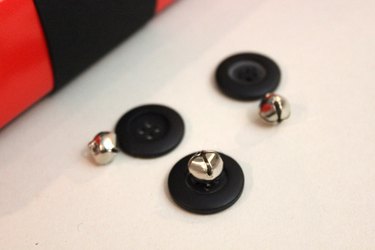 Hot glue jingle bells to black buttons. Depending on the size of your box, you will need about three bell/button combinations. While the bells are optional, they add a festive sound when the box is shaken.
Step 7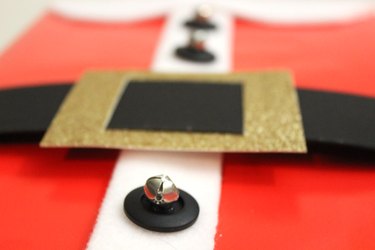 Hot glue the buttons to the placket, spacing them evenly along the white felt. Santa's suit is done!
Tip
If the white felt is thin, you may want to double up on it so the red paper doesn't show through.
Warning
Be careful using the hot glue gun. Never leave it unattended.