Nothing compares to fresh and creamy ice cream. As a kid, a slowly melting stack was a welcome sight whether it was eaten after school or topped with sprinkles for dessert. And now as an adult, rolling a scoop over soft ice cream still evokes feelings of excitement and fun. Whether you've chosen mint chocolate chip and vanilla since you were little, or you're all about the grown-up tastes of bourbon and coffee, these flavors will suit any hankering you have for a sweet treat. Eat your pick in a waffle cone, a big bowl, between two cookies or inside warm bread. When you have options as mouthwatering as these 13 recipes, you really can eat a different ice cream every day!
Grab a Bowl of No-Churn Cookies and Cream
If the thought of making your own ice cream is a little intimidating, this cookies and cream recipe is a great place to start. No ice cream maker is necessary — although Oreos definitely are — and you'll have a delicious ice cream treat in a snap.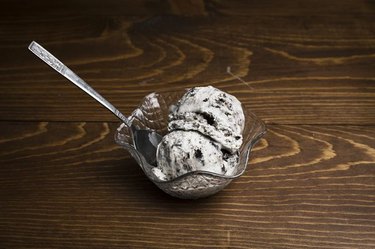 Wake Up With Coffee Ice Cream
Consider replacing that afternoon coffee with a scoop of creamy coffee ice cream. Better yet, have this instead of a morning latte. No one says you can't have ice cream for breakfast!
Go Nuts for Dairy-Free Peanut Butter Ice Cream
Lactose intolerance or a vegan diet shouldn't mean that ice cream is off the menu. This peanut butter ice cream, which is made from coconut and non-dairy milk, will hit the spot without breaking any rules. The hard chocolate magic shell is not to be missed, either.
Beat the Blues With Boozy Bourbon Ice Cream
You can't go wrong when a recipe calls for bourbon, and this bourbon vanilla bean ice cream will not let you down. Add some sliced banana and praline sauce and you'll have a bananas foster-style ice cream sundae to boot.
Soak Up Summer With Peaches and Pecan Ice Cream Sandwiches
For another ice cream delight, check out this recipe for peaches and pecan bourbon ice cream sandwiches. Nothing says summer like sweet peaches and crunchy pecans, and a shot of bourbon makes this dessert all the more decadent. Sandwich a hefty scoop between two oatmeal cookies, and you'll have heaven on earth.
Keep This Berry Ice Cream to Yourself
When you whip up this no-churn berry ice cream made from fresh summer berries, you won't want to share. You might even find yourself eating it straight from the freezer! Combine the ingredients in a baking dish and let the contents chill for at least eight hours. When it's ready, this ice cream is all yours.
Brighten Up Your Day With Mango Ice Cream
This recipe for mango ice cream calls for only a handful of ingredients, yet it packs a powerful punch of tropical mango flavor. A spoonful of this, and you will be transported to warm, white-sand beaches.
Keep Things Simple With Chocolate
Chocolate ice cream is a classic, and it's no surprise why we keep going back to it. This recipe for churned chocolate ice cream proves yet again that there is no flavor that can compare to the sweet taste of cocoa.
Tantalize Your Taste Buds With Chocolate Chip
When you're looking to satisfy your chocolate cravings, but plain chocolate ice cream isn't quite enough, try this recipe for chocolate chip. It has the best of both worlds: smooth vanilla and rich chocolate chips harmonizing in every bite.
Delight in Dairy-Free Chocolate Ice Cream
This recipe for chocolate ice cream is so good, you won't even know it's vegan. With coconut milk, rich chocolate and a hint of espresso, the flavor is dynamic without being over-the-top. Pair it with some vegan chocolate chip cookies and dig in.
Cool Off With Mint Chocolate Chip Ice Cream
The refreshing taste of peppermint and the slight crunch of chocolate chips make this ice cream the type of choice that will never go out of style. And since you don't need an ice cream maker for this one, either, you can eat this timeless treat without much hassle.
Spoon Up Fresh Strawberry Ice Cream
Bright strawberry ice cream is just what you need for an amazing banana split. After you blend fresh strawberries and churn the ingredients in a mixer, freeze the pink concoction for two hours. When it's nice and frozen, add bananas. You can top everything with whipped cream and cherries, of course, to really enjoy the full effect.
Fall in Love With Lemon and Lavender Ice Cream Bread
This recipe for lemon and lavender bread is as unique as it is irresistible. The base is essentially ice cream with a little bit of self-leavening flour added into the mix. Serve a slice or two to guests for dessert or skip the bread step and just make some lovely lemon and lavender ice cream — either way, it will be delicious!