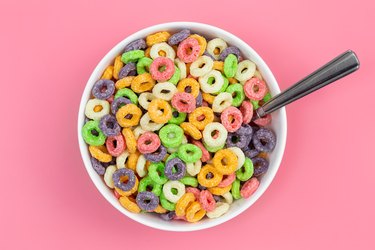 There's a certain sort of irony in the fact that cereal, first invented as a digestive aid, is now such a sweet treat that it's practically dessert parading as breakfast. But hey, we're not complaining! Not only does cereal come in a seemingly endless array of wacky colors and flavors these days, but there are boundless possibilities for repurposing it. We've rounded up five of the most creative and mouthwatering TikTok recipes, from Hot Buttered Cheerios to a Cinnamon Toast Breakfast Sandwich, that feature cereal as a star ingredient.
Our first feature comes from TikToker @cookingpanda, who shows off a creative way to make taco shells out of Fruity Pebbles. The creator starts by mixing cereal with melted marshmallows and butter. Next, she shapes the mixture into a flattened circle with a small cake pan. Once round shells are formed, @cookingpanda places them into taco molds and completes the dessert by adding ice cream, whipped cream and ‌more‌ Fruity Pebbles. Do we want to try this immediately? You bet we yabba-dabba-doo.
Here's one we had never heard of until today: Hot Buttered Cheerios! The recipe itself, demonstrated beautifully by TikToker @a_southern_soul, is quite straightforward, calling for nothing more than Cheerios, sugar, cinnamon, butter, a dash of salt and vanilla. Cheerios are toasted in butter on the stovetop and mixed with an extra sprinkling of the cinnamon-sugar mixture. Who says Cheerios have to be boring?!
3. Whipped Froot Loops Milk
Now for something foamy, fruity and fantastic: Whipped Froot Loops milk! Skip your typical morning coffee or tea and sweeten the deal by following this recipe from TikToker @kortneyandkarlee. Whipped Froot Loops milk is pretty much just what it sounds like: a combination of heavy whipping cream, sugar, Froot Loops cereal and milk dyed blue with food coloring. Pop it in a glass with ice, top with crushed Froot Loops and enjoy!
4. Cinnamon Toast Crunch Breakfast Sandwich
Our next idea comes from TikToker @jassyskitchenchronicles, who perfectly combines sweet deliciousness with classic breakfast fare by whipping up a Cinnamon Toast Crunch breakfast sandwich. She begins by creating a french toast batter with cinnamon, nutmeg, ginger, eggs and milk. Bread slices are soaked, topped with crushed Cinnamon Toast Crunch bits and cooked in butter before being filled with scrambled eggs, cheese and sausage. Talk about a wonderfully wacky flavor combo!
5. Reese's Cocoa Puff Krispies
If you love Rice Krispies Treats, TikToker @healthyishfoods has just the recipe for you: Reese's Cocoa Puff Krispies. Substituting one kind of cereal for another? Why not! Actually, make that two kinds: @healthyishfoods uses Reese's Puffs cereal and Cocoa Puffs cereal for this mixture (but you can use any combination you like). Simply melt butter and marshmallows, add cereal and combine! These treats are topped off with chocolate chips and marshmallows too. Is there anything that butter and marshmallows ‌can't‌ make more delicious?
So...cereal: breakfast ‌or‌ dessert? We'd categorize it as both. Just don't tell the original creator of cereal.