Nothing compares to homemade ice cream, although making it from scratch can be a lengthy process. This easy, no-churn ice cream is the perfect solution for those who want to enjoy homemade ice cream, but don't have the time or the materials needed to make a traditional version. This recipe is extremely versatile, so feel free to swap out the crushed cookies for another flavor of your choice!
Things You'll Need
1 cup crushed Oreo cookies, about 9–10 cookies

2 cups heavy whipping cream

14 oz can condensed milk (1)

1 1/4 teaspoon pure vanilla extract

Wire whisk or standing mixer

Spatula

2 large bowls

9 x 5 inch loaf pan or another equal-sized container

Plastic wrap
Step 1
Add the heavy cream to a large bowl, and whisk until stiff peaks form. Set aside.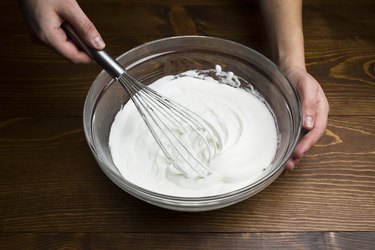 Step 2
In another large bowl, add the condensed milk and the vanilla extract. Mix until combined.
Step 3
Add a small amount of the whipped cream to the condensed milk. With a spatula, begin to fold the whipped cream into the condensed milk. Once combined, gently fold in the remaining whipped cream.
Step 4
Gently fold the crushed cookies into the mixture.
Step 5
Pour the mixture into a loaf pan, or an equal-sized container, and cover tightly with plastic wrap. When covering the ice cream, make sure that a layer of the plastic wrap touches the ice cream. Place the ice cream into the freezer until solid, about 6 hours, but preferably overnight.
Tip
Having a layer of the plastic wrap touch the ice cream will help prevent crystallization.
Step 6
Remove the ice cream from the freezer, and let sit at room temperature for a few minutes before serving. Once the ice cream has slightly softened, scoop and enjoy.