You've probably heard of butter boards, the snack sensation that sent shockwaves through TikTok and beyond. (In case you missed it, a butter board involves slathering butter onto a board, adding toppings and serving the concoction with bread and other dipping accouterments.) Now, there's a seasonal version taking over social media for the holidays: frosting boards!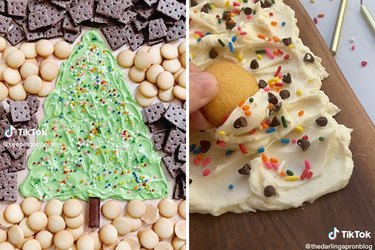 They're a lot like butter boards—just sweeter and meant to be served ‌after‌ dinner (though we think dessert should be enjoyed whenever your heart desires). We gathered a few of TikTok's most delicious-looking frosting boards to give you some sugary inspo.
Our first frosting board example comes from @keepingonpoint, who dyed their frosting green, created a festive tree topped with sprinkles and rounded it all out with a KitKat trunk. We love that this creator made a shape out of their frosting! A candy cane or snowman design would surely look just as sweet.
Tip
To keep your frosting board sanitary, we suggest adding parchment paper to your surface before layering on the frosting. Bacteria can live in the knife cuts in wooden cutting boards, so spreading anything on top and scooping it off can be risky.
TikToker @kimberlyinese made today's next featured frosting board, and we love the variety of dipping options included here. Pretzels, chocolate teddy bear cookies and mini chocolate chip cookies dipped in frosting? Our mouths are watering just imagining it. Personally, we'd add graham crackers to the mix!
The third and final frosting board comes from @thedarlingapronblog, who made a homemade buttercream for their dessert board. @thedarlingapronblog mentions that they love how customizable frosting boards are, and we couldn't agree more! While this creator added mini chocolate chips and sprinkles to their frosting, other options include peanut butter chips, chocolate sauce or chopped-up candy bars, like Snickers or Twix. The delicious possibilities are truly endless!
This year, perhaps we should amend the classic rhyme about sugar plums to something even sweeter: "The children were nestled all snug in their beds, while visions of frosting boards danced in their heads."