If you think you need a bulky and expensive ice cream machine to make the rich and creamy dessert, think again! With a few simple ingredients and a mixer, you can have a batch of perfectly round scoops in no time. It all starts with an easy-to-make base that's doctored up with a trio of fruit purees — raspberry, blueberries and strawberries — resulting in a refreshing cold treat that's hard to resist. It's a summer kitchen short-cut with endless possibilities.
Things You'll Need
4–5 medium to large strawberries, hulled and halved

1/2 cup blueberries

1/2 cup raspberries

1 can (14 ounces) sweetened condensed milk

2 teaspoons vanilla extract

2 cups cold heavy cream

Wax paper

3-quart baking dish

Small food processor or blender

Mixer
Step 1: Make the Fruit Purees
Puree each fruit, one type at a time, using a small food processor or blender.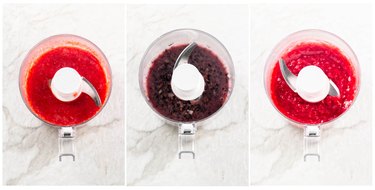 Transfer each puree to small bowls and set them aside while making the ice cream base.
Step 2: Make the Ice Cream Base
In a stand mixer fitted with a whisk attachment (or a hand-held mixer), whip the heavy cream until soft peaks form. While the cream is whipping, combine the vanilla and sweetened condensed milk in a large bowl. Once the cream is whipped, gently fold it into the vanilla and condensed milk until everything is combined.
Step 3: Add the Fruit Purees to the Ice Cream Base
Scoop half of the ice cream base into the baking dish and spread it into an even layer. Then, spoon approximately half of each fruit puree on top. Using a dinner knife, swirl the fruit purees into the ice cream.
Now, scoop the remaining ice cream on top and gently spread it out evenly over the first layer. Lastly, spoon in the remaining purees and gently swirl them with the dinner knife.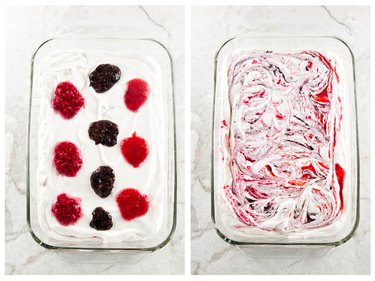 Step 4: Freeze the Ice Cream
Top the ice cream with a sheet of wax paper to prevent water crystals from forming on top while it freezes. Cover the dish with plastic wrap or tin foil and place it in the freezer. Allow the ice cream to freeze for at least eight hours.
Step 5: Scoop and Serve
When ready to serve, remove the ice cream from the freezer. Let it stand at room temperature for a few minutes before serving.