A frittata is a delicious egg-based Italian dish that's very similar to a crustless quiche. For this recipe we chose broccoli, cream cheese, cheddar cheese, and roasted red peppers for an easy, flavorful meal. The beauty of this meal is that you can always experiment by adding in a variety of your favorite meats, cheeses, and vegetables.
Things You'll Need
10 large eggs

1/2 cup heavy cream

1/3 cup whole milk

2 tablespoons fresh parsley, finely chopped

1 teaspoon fresh ground black pepper

1/2 teaspoon salt

2 tablespoons butter

4 ounces cream cheese, cut into small cubes

4 ounces cheddar cheese, shredded

1/2 cup roasted red peppers

1 cup broccoli florets

Step 1
Preheat the oven to 400 degrees Fahrenheit. Carefully crack the eggs into a medium-large bowl and whisk eggs until well beaten and frothy, about two minutes by hand.
Step 2
In a large ovenproof skillet, melt the butter over medium heat. Once it's completely melted add egg mixture to skillet. Quickly layer the cream cheese, cheddar cheese, roasted red peppers, and broccoli on top of the eggs. Cook for four minutes over medium heat without stirring or moving the eggs in any way, then carefully transfer the skillet to the preheated oven.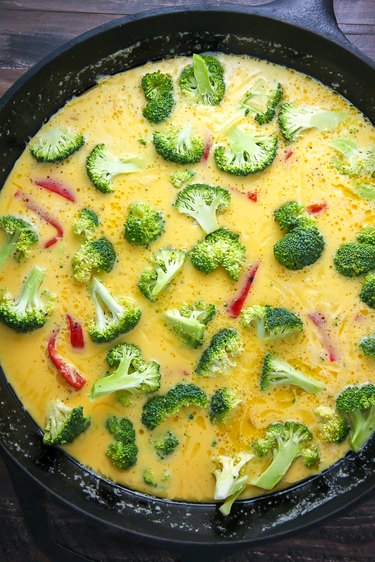 Step 3
Bake until the top is golden brown and the frittata is set, about 35 minutes. Cool for five minutes, then cut and serve warm.
This easy, cheesy frittata is perfect for breakfast, dinner, or brunch. Add a side of breakfast potatoes or a little salad for a well-rounded meal. You're sure to impress all of your guests with this delicious dish!