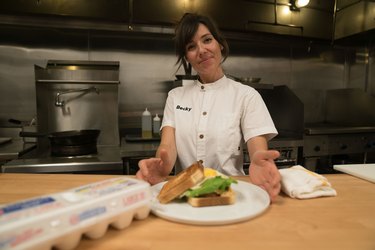 Make It Egg-Cellent - in partnership with Eggland's Best, we asked our favorite chefs to take a breakfast, lunch, or dinner staple and make it better by adding EB eggs to it, and ended up with a few exclusive and delicious recipes that you can make at home.
This delicious summertime sandwich draws on some southern influences, with a few twists, like the delicious runny fried egg and chile aioli which adds a nice flavor kick! I will be serving this sandwich at my brunch restaurant, Lately, now open in downtown Los Angeles.
This recipe is inspired by my love for pimento cheese, and memories of growing up eating fried green tomatoes. The egg is the 'icing on the cake' so to speak. Who doesn't love a perfectly sunny side up egg anyway?
Eggland's Best eggs are great for this recipe because they only have 60 calories and pack in more of the nutrition you need to get through your day, such as 6x more vitamin D and 10x more vitamin E compared to ordinary eggs.
Things You'll Need
2 medium/large green tomatoes

1/2 C AP flour


6 Eggland's Best large eggs, separated

1 C panko breadcrumbs

4 C canola oil, for frying


8 leaves of butter lettuce

8 slices thick-cut white bread, sometimes called 'Texas Toast'

Scant 1/2 cup pimento cheese spread, house-made or store bought
For Aioli:
Things You'll Need
1/2 C mayonnaise


2 cloves garlic, finely grated

2 T lemon juice


2 T Calabrian chile paste (available at Italian markets or online)


4 T butter, at room temperature, for buns and frying eggs

Salt to taste
Step 1
Slice tomatoes into 1/2" thick slices.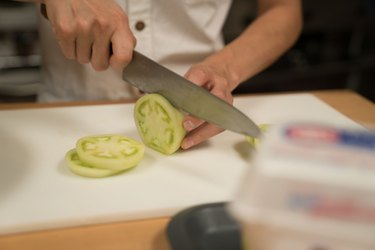 Step 2
Set up your breading station by placing flour and bread crumbs in separate bowls, and season with a large pinch of salt.
Step 3
Crack 2 Eggland's Best eggs into another bowl, and scramble with a fork.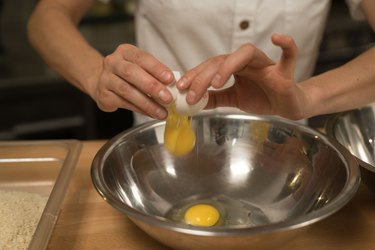 Step 4
Bread tomato slices by dipping each one first into the flour, shaking to remove excess, then dipping in eggs, and finally the breadcrumbs. Place finished breaded tomatoes on a rack.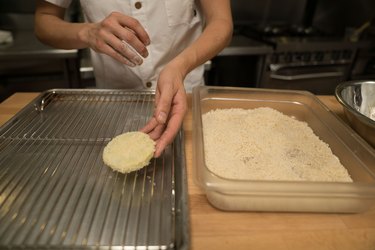 Step 5
Meanwhile, heat frying oil to 350 ̊ F. Once oil is hot, fry tomatoes each side until golden brown all over. Set on a rack to cool slightly, and season liberally with salt.
Step 6
Heat a large skillet over medium heat. Spread bread with butter on one side.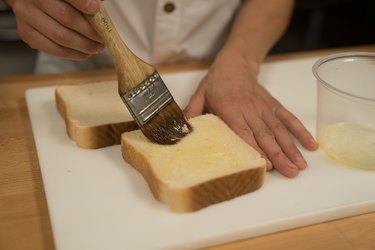 Step 7
Brown the bread in the skillet until golden brown. Watch them closely, so not to burn!
Step 8
Remove bread and wipe skillet clean, then add more butter to fry Eggland's Best eggs. Fry two eggs at a time, as not to overcrowd pan. Cook the eggs for 4-5 minutes each, until white is set but yolks are still runny. Remove cooked eggs and set aside, then fry the other eggs.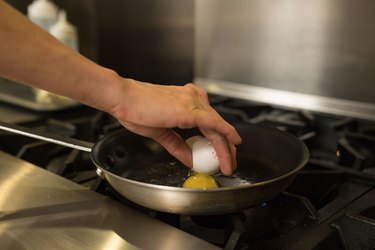 Step 9
Make aioli by mixing all ingredients together and season with salt. Spread aioli on both sides of bread.
Step 10
Place a fried tomato on the bottom slice of bread. Spread a generous amount of pimento cheese atop each fried tomato, top with 2 lettuce leaves and place the Eggland's Best fried egg atop that.
Step 11
Season the egg yolk with a pinch of salt, and serve with the top bun tilted against the sandwich to show off that beautiful fried egg. Enjoy!