Things You'll Need
Cold water

Egg carton or covered container

Bowl with lid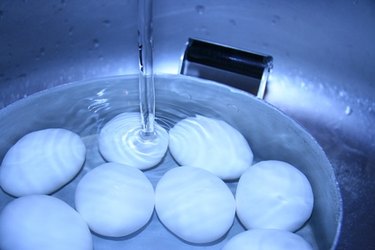 Hard-boiled eggs need to be stored properly to prevent the growth of bacteria. Once you boil eggs, the shells no longer have the protective coating to keep contaminants away. You need to store boiled eggs in airtight containers to keep the odor of the eggs from lingering in the refrigerator. The boiled eggs will not last as long as raw eggs. You can safely consume properly refrigerated boiled eggs for one week before you need to discard them.
Step 1
Drain the hot water from the hard-boiled eggs. Run cold water over them for several minutes to stop the cooking process.
Step 2
Allow the eggs to cool completely. Do not leave them out at room temperature longer than 2 hours.
Step 3
Place the hard-boiled eggs back in the egg carton or in a covered container. Place the container in the refrigerator. If you wish to peel the eggs before you store them, then submerge them in a covered bowl of cool water.
Step 4
Discard the eggs after one week in the refrigerator.