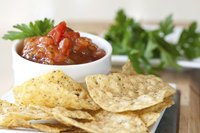 Salsa simply means sauce in Spanish. Recipes for salsa vary considerably and include such differences as using tomatillos or tomatoes, fresh or dried chilies, and raw or cooked preparations. Picante sauce, on the other hand, has one distinguishing characteristic that sets its apart -- its intense heat. While the two terms are commonly used interchangeably in English, they are not synonymous, because picante sauce is a specific type of salsa.
Salsa vs. Picante Sauce
Salsa is made balancing sweet, tart, salty and spicy flavors together to create a standalone dip, topping sauce, table sauce or cooking medium. Most salsas are made using just a few ingredients such as tomatoes, onions, chilies and garlic. Salsas can be green or red, thick and chunky, or thin and watery, depending on their intended use. Picante sauces, on the other hand, are characterized as being thin, red sauces that have intense heat. While a picante sauce is a type of salsa, all salsas are not picante sauce.