Cooking healthy chili at home is a simple task, and preparing it in a crock pot makes it even easier. Allowing the ingredients to slow cook for just a few hours yields thick and hearty chili with tender, flavorful meat. You can use any ground meat you'd like, and/or a combination of ground meat and sausage. Just set it and forget it!
Things You'll Need
3 tablespoons olive oil

1/2 yellow onion, finely chopped

1 green bell pepper

1 red bell pepper

1 jalapeno, seeded and chopped

4 cloves garlic, minced

2 tablespoons chili powder

1 teaspoon ground cumin

2 teaspoons Italian seasoning

1 1/2 teaspoons sea salt, to taste

1 pound ground turkey, beef, or pork

1 can black beans and 1 can kidney beans


1 (28-ounce) can diced tomatoes

2 cups low-sodium chicken broth
Tip
Add a variety of vegetables, such as carrot, celery, and corn
Substitute the chicken broth for beef broth
Use 1/2 pound of ground meat (such as turkey, beef, bison, or pork), and 1/2 pound of ground sausage for a super flavorful result
For a spicier chili, add ground cayenne pepper, a chipotle chili, and/or leave the seeds in the jalapeño.
Step 1: Sauté the Vegetables
Add the olive oil, onion, and chopped bell peppers to a non-stick skillet. Heat to medium-high and sauté, stirring occasionally until vegetables have softened, about 5 to 8 minutes.
Add the jalapeño, garlic, chili powder, ground cumin, Italian seasoning, and salt. Continue cooking, stirring occasionally for 2 minutes.
Step 2: Brown the Meat
Heat a skillet to medium-high and add just enough oil to coat the surface, about 2 tablespoons. Once the skillet is hot, add the ground meat and spread it on the surface of the skillet, leaving it untouched to allow it to brown, about 1 to 2 minutes. Flip meat using a spatula and brown on the other side for 1 to 2 minutes. Avoid cooking meat all the way through.
Tip
This step can be performed while the vegetables are sautéing (see step 1).
Step 3: Add Ingredients to the Crock Pot
Open the cans of beans and pour into a colander. Run lukewarm water over them to rinse thoroughly. Also open the can of diced tomatoes, and measure out the broth.
Add the browned meat, sautéed vegetables, and beans to a 6-quart crock pot.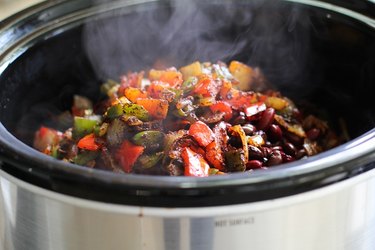 Add the diced tomatoes and broth to the crock pot.
Give everything a good stir and place the lid on top of the crock pot, making sure it is secure so that little heat escapes. Turn the crock pot on low and cook for 3 to 4 hours, or until meat is cooked through and chili is thick and flavorful. Once the chili has finished cooking, taste it for flavor and add salt or more seasoning to taste.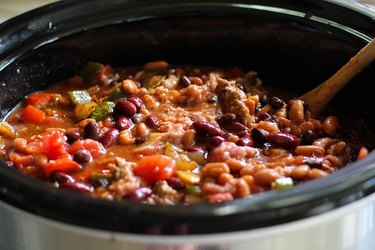 Tip
If you want this faster, you can also cook on high for 1 1/2 to 2 hours.
Step 4: Serve
Scoop heaping portions of chili into bowls and serve with your favorite toppings, such as grated cheese, sour cream, green onion, avocado, and hot sauce. Enjoy!