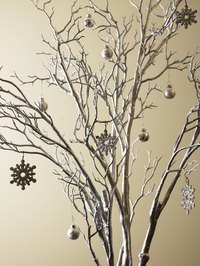 It's easy to experience a winter wonderland if you throw a holiday party in a snowy area. If, however, you live where snow may not be very likely or if you just want to bring a sense of the outdoors inside, you can create your own winter wonderland as a backdrop for entertaining. One way that rapidly transforms a home or a room is to decorate tree branches. Use a lot of silver and white, and harvest branches from your yard, your neighborhood or the local park.
Things You'll Need
Garden shears or loppers
Drop cloths or tarps
White spray paint
Artificial snow
Pots, vases or tree stands
Floral foam or wire cages (optional)
Floral wire (optional)
Pebbles (optional)
Cotton
Tiny white lights
Silver tinsel or icicle lights
Ornaments
Fresh cedar (optional)
Garlands (optional)
White or silver ribbon (optional)
White or bayberry candles (optional)
Juniper incense (optional)
White flowers (optional)
Trim the tree branches you collect. Shears work for smaller branches; loppers are best for larger ones. You can use branches from deciduous or evergreen trees, but they will have different effects. Cut the base of each branch so it's flat, then trim off any broken or disfigured sections and remove any dead leaves.
Spread out your tarps, and spray paint the branches with white or light silver spray paint. Let them dry. Then, spray artificial snow lightly on the branches, and let them dry as well.
Stand the branches inside flower pots or vases. Some people like to place floral sponge at the base or use wire to hold the branches into place. Just poke the base of the branches into the foam. Alternatively, you can place several inches of small stones or pebbles into the pot and tuck the branches into them. Use several branches to get a full effect or just one for a more open look. Place cotton in clusters over the stones to simulate snow.
String small strands of white holiday lights through the branches -- this is especially decorative for parties held at night, but works fine in the daytime, too. Not every branch needs lights unless you are going for a particularly sparkly effect.
Drape the branches sparsely with silver tinsel to create an icicle effect. Alternatively, use icicle lights on larger branches.
Hang white star-shaped and snowflake ornaments from the branches. Pull the cotton slightly apart to tuck into or hang from the branches.
Place the pots or vases of branches around your party room, grouping several together in corners, for example. Or place them in bathrooms that guests will use. Put a couple outside the entryway, as well.