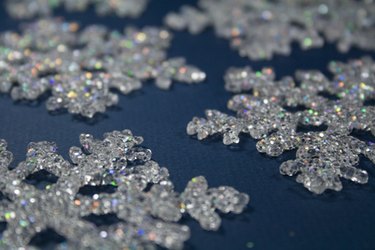 Loading up on snowy decorations makes your guests feel like they walked into a winter wonderland. Whether you're hosting a winter wonderland party or just want to decorate for the holidays, the theme lends itself well to a variety of decorations. This is one party theme where more is better. The more snow-themed decorations you display, the more magical the winter wonderland room becomes.
Artificial Snow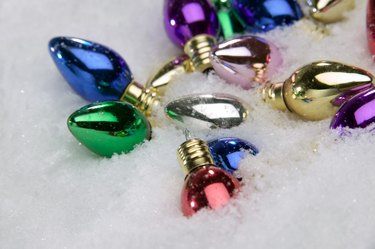 Use cotton batting or similar fake snowlike products for tables, mantels and other areas in the home. Spray the fake snow with spray glitter for a glimmering effect. An option for centerpieces or vases is to use floral gel crystals. Look for them in the floral section of a craft store. Water mixed with the crystals turns it into a snowlike texture. Place it in a shallow bowl and arrange candles or glass Christmas ornaments in it for a festive centerpiece. You can purchase spray snow that works well on windows. Spray it near the corners and along the edges of windows to greet guests with a snowy welcome.
Glittered Snowflakes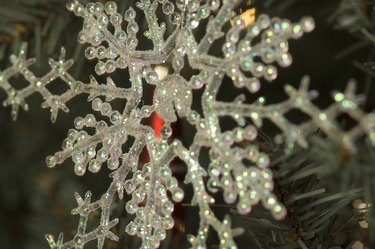 Suspend lots of the snowflakes covered in glitter from the ceiling to set a magical tone to the room. Decorate a white Christmas tree with the glittery snowflakes. Hang them in the windows or along a mantel. You can also hot glue or wire the snowflakes onto a wreath for a display that works well both indoors and outdoors.
Twinkle Lights & Tulle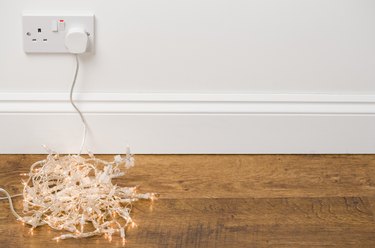 String white twinkling lights throughout the home. Ideal places for the twinkle lights include windows, along mantels, on banisters and along the edges of tables. Bunch a string of the twinkling lights inside a frosted glass vase for a bright centerpiece. Drape twinkle lights along with tulle fabric on the ceiling or walls for a romantic and magical feeling.
Balloons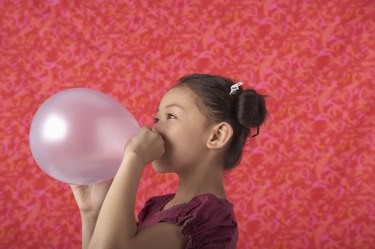 Choose pearl finish balloons for a frosty look. Another option is to use balloons printed with snowflakes on them. Create balloon bouquets as centerpieces. You can also use the bouquets to flank the main entrance as a festive greeting for guests. Another option is to let the balloons float to the ceiling as a ceiling decoration.
Color Scheme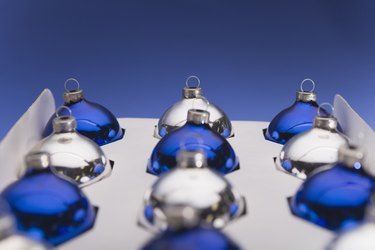 Use white decorations inside your home. Silver is another fitting accent color for the winter wonderland theme. Add silver glitter to decorations for a shimmering touch. Light blue is another color often used in winter wonderland themes. Add it in the form of Christmas ball ornaments and other accents. Ball ornaments work well on a white Christmas tree or suspended from the ceiling.