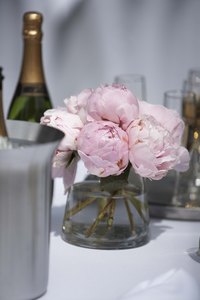 Stair railings offer the perfect opportunity for a backdrop of color to decorate a wedding. Draping white English netting and organza in the bridal colors provides a backdrop to complement the bride's entrance for the wedding. A few bunches of flowers at the top and bottom add festivity and color, without drawing attention away from the bride. The decorations on stair railings need not be over powering or complicated to dress up the wedding decor.
Things You'll Need
Zip ties
Small bouquets of flowers from a florist
Daytime Wedding
Order four extra small bouquets to match the bridesmaid's bouquets. Alternately, have the florist group six roses with some greenery and baby's breath in the colors of the bridesmaids' dresses.
Starting at the top newel, drape organza in a color to match the bridesmaids' dresses by winding it around the top newel. Allow the beginning of the organza to fall almost to the floor.
Allow the organza to drape down, then bring it up to the stair railing after about four steps. Tie it to the railing with a zip tie. If the stairs are only about six steps, then bring the organza up to the railing after three steps.
Wrap the organza around the bottom newel and allow the fabric to drape to the floor. Alternately, if there is no newel, attach the organza to the bottom of the stair railing with a zip tie.
Repeat Steps 2, 3 and 4 with white English lace. Lay the lace on top of the colored organza.
Attach small bouquets of flowers from the florist to the top and bottom of each stair railing with zip ties on the morning of the wedding.
Evening Wedding
Attach organza in the bridesmaids' colors to the top of the stair railing with zip ties. Wrap the organza around the top newel, if there is one.
Weave the organza in and out of about every fifth baluster. Drape the fabric slightly, but avoid draping the fabric lower than six inches from the railing. Tie a bow at the end and cut the fabric off six inches from the railing.
Repeat Steps 1 and 2 with English lace.
Place votive candles in jars or other containers on each step. Place two on each step, close to the railing, but not directly under the railing.
Tie small bouquets of fresh flowers to the top and bottom of the railing with zip ties. Light the candles.