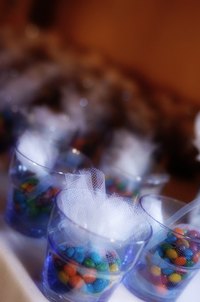 Tulle swags or arches can add the perfect touch to wedding decorations. Tulle is easy to drape on decorative wedding arbors, arches and even on the pews along the wedding aisle for an extra atmosphere of romance. Fortunately, tulle is an inexpensive fabric that the majority of craft stores carry, so you can purchase plenty without much expense. You can also buy extra material in case you would like to experiment before decorating for the big day. Best of all, decorating with tulle requires no craft expertise whatsoever—just a little creativity and a few hours of your time.
Things You'll Need
8 to 10 yards white tulle
Craft wire or ponytail holders
Wedding arbor, arch, wedding pews or other items to decorate
Wreath hangers
Decide where you will hang the tulle swags. Where you put the tulle will have a significant effect on how much of the material you need. If you plan to decorate a traditional arched wedding arbor, plan on 8 to 10 yards of tulle. To decorate a wedding aisle, measure the length of the aisle, and then multiply by four. You will want tulle swags on both sides of the aisle, and you will also need a considerable amount of extra fabric to compensate for the swags.
Trim the tulle to the width that you want. The tulle will typically be as wide as a standard bolt of fabric, which is anywhere from 36 inches to 54 inches. While you will bunch up the tulle to create the swags, you do not want the bunch to be too bulky; 36 inches of bunched tulle is probably too much. As a rule, plan to trim to tulle to a width of between 12 inches and 24 inches.
Trim the tulle to the length that you need. The tulle length will depend on the size of the item that you are decorating.
Add the tulle to the item or items that you plan to decorate. On an arbor, use craft wire to attach the swags to each end, or just loop the tulle through the sides of the arbor with a knot. If you have the extra tulle, create small bows of tulle at each end to conceal any of the craft wire. Use the same process for a decorative wedding arch. To create swags along wedding aisles, attach wreath holders to the sides of the pews, and then drape the tulle along the aisle by hanging it from the wreath hanger. To conceal the hook on the hanger, twist the tulle around it once and then continue draping.