Things You'll Need
Cup for mixing in

Wooden stirrer

2 packets unflavored gelatin

Red food coloring

Yellow food coloring

Oats

Black body paint

Small makeup brush
By now even the most casual fan of horror films and Halloween haunts knows that those spookily realistic gashes and gouges, warts and wounds that make for a memorable costume all have one thing to thank: liquid latex. This super rubber is dynamic, easy-to-use, and endlessly transformable. The drawback is that actual liquid latex causes allergic reaction in some people, has a highly unpleasant odor, and is not always easy to find (especially if you live outside of a major city). But have no fear! You can still invoke fright, and create the same spooky effects, with this DIY latex, made from commonly available unflavored gelatin and some other things you probably already have in your cupboard.
Making your own Liquid Latex
Step 1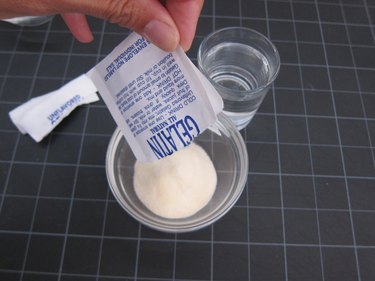 Pour two packets of gelatin in a bowl. Add another if you are covering a large area.
Step 2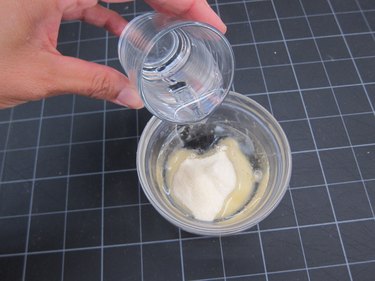 Add two tablespoons of boiling water.
Step 3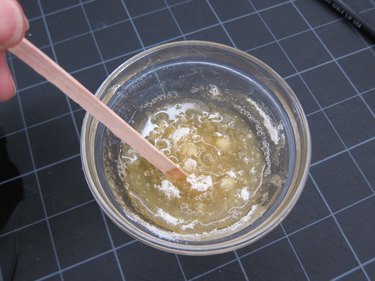 Stir with a wooden stick until the gelatin is dissolved. It will begin to thicken up and cool down as you stir it. If you are creating a wound, don't worry about leaving a few lumps in the mix.
Step 4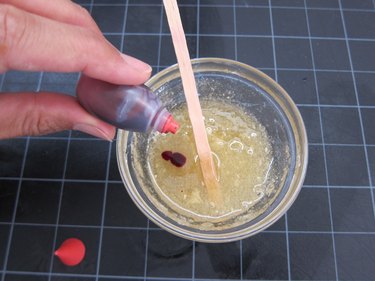 Add red food coloring if you are making an open wound. Don't wait too long to do this or the gelatin will set and the color won't stir in so well.
Step 5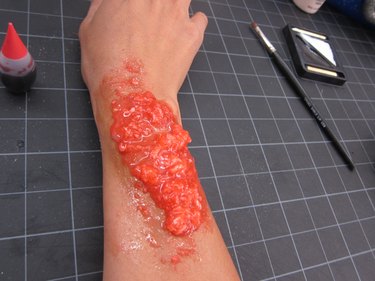 Spread the liquid latex on the spot where you want your wound to be.
Step 6
Sprinkle raw oats on the wound, this will stick to the wet gelatin and add texture.
Step 7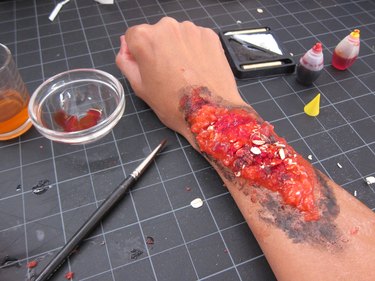 Add black around the edge of the wound and randomly to the oats, and flesh with your lip brush. Add a little yellow food coloring also with your brush to add an infected tinge.
Step 8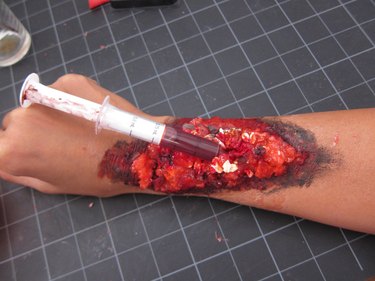 Add something creepy sticking out of it like a needle-less syringe filled with red water. The gelatin will hold it in place.