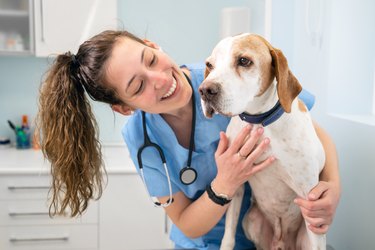 Here is an unusual and creative idea for a Halloween outfit: a veterinarian costume. Kids of all ages and adults who love animals will be drawn to this idea, and it takes very little effort to make one. As long as you include specific medical and animal-themed touches, everyone will know that you or your child is wearing a vet uniform.
To make a kids' vet costume, you can use a lab coat, white coat or scrubs from your child's dress-up set. If you don't have those on hand, take a clean white pillowcase and fold it in half vertically, keeping the open end at the bottom and the closed end at the top. Cut diagonally a few inches along the closed end, beginning at the crease and stopping at its closed bottom seam; this makes a V-shaped opening for the head.
For arm holes, cut two shallow C-shaped cuts; make one on each side seam near the closed part of the pillowcase. Now, spread out the pillowcase on a table, keeping the head hole at the top. Use a fabric marker to draw a straight line down the middle. Draw on "buttons" down one side of the line. Now, you can draw on a pocket at the chest, along with a few tools and write "Dr." followed by your child's name.
Alternatively, you can use an old white t-shirt, cut straight down the middle of the front, and decorate it similarly to make a lab coat. If you have a white button-down shirt that is a bit too large for the wearer, this can also be a lab coat for a vet costume. If you have a toy medical kit in the house, you can accessorize the vet costume with a stethoscope and whatever else works. Give your child a pair of latex or vinyl gloves and a stuffed animal or two to carry around. Underneath the plastic coat, wear a white long-sleeved top and sweatpants.
Other Kinds of Veterinarian Outfits
More traditionally, you can use an actual white lab coat to make your vet costume. You can find free software online to design and print out a veterinarian logo; the child's name can then be added after "Dr." Then, you can cut out and slide the label into a name badge. You can also just write on the name, if you prefer.
The same logo can be printed out a second time on iron-on printer paper; you can then iron it onto a black canvas "medical" bag. For the most authentic look, get a pretend stethoscope and possibly some other plastic medical implements, like a thermometer. If the jacket has pockets, be sure to stick in an extra stuffed animal or two.
There are many vet costumes available for purchase; most feature a two-piece set with scrub-like pants and a lab coat. You may also be able to find accessories to go with the costume, like a stuffed animal and a doctor's tool set. Some costumes for kids feature cute animal prints.
Make Versus Buy Vet Costumes
The decision for how to make this costume come to life is up to you. This is a very easy costume to make at home, but you need the right touches to differentiate it from a regular doctor's costume.
If you only have a white lab jacket, you might have to buy the accessories separately, which can add up in cost. In some cases, it is cheaper and easier to buy a vet costume set that has everything already included.