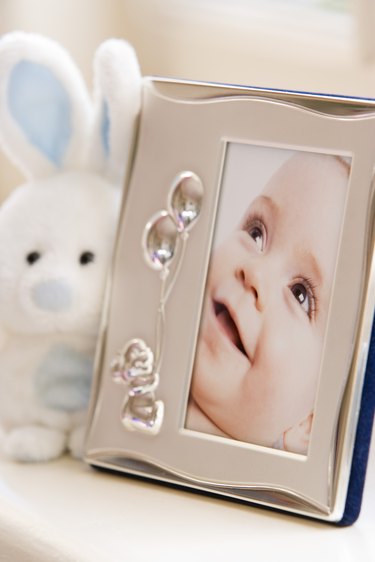 Baby showers are a traditional way of preparing the expectant parents for the arrival of the new addition to their family. While these events are a common occasion, they don't have to feel typical. If you're planning a baby shower, set the event apart and give it a personalized feeling by using pictures of the soon-to-be mom and dad as decorative elements for the affair.
Step 1
Gather a collection of photos that you want to display at the shower. Use a combination of photos that showcase different stages of the couple's relationship, from dating to their wedding to maternity pictures.
Step 2
Blow up your favorite maternity photo of the couple; have it printed in black and white or sepia to give it an eye-catching effect. Display the image on a focal wall. Print "Mom+Dad=Baby" or "1+1=3" in a decorative font on a strip of decorative paper and display it underneath the image.
Step 3
Frame individual images of the couple and place one in the center of each table. Tie balloons that match the color scheme of the shower around the back of the frames. Scatter baby-themed confetti, such as bottles, carriages or rattles on the surface of the tables around the frames.
Step 4
Hang individual pictures on the walls or display pictures on a table top in chronological order, starting from the period the soon-to-be parents were dating, progressing to their wedding and ending at their maternity pictures. Alternatively, you can create collages of each of these phases of their lives and display them in chronological order on a wall or table top.
Step 5
Select a maternity picture of the parents-to-be to place on one side of the cake. On the other side of the cake, place a photo frame that features whimsical baby-related images and perhaps inscribe with the name of the baby, if it's known. This frame can be used by the parents to display the first picture of the baby after it is born.
Step 6
Create collages of the future mother and father's baby pictures on poster board and display the collages on easels.