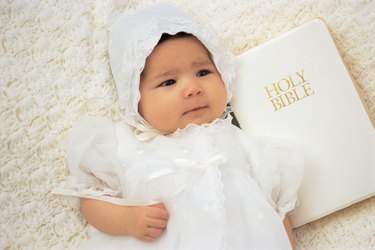 For Filipino Christians, part of their religious practices are baptizing infants and young children and taking great care selecting godparents for their children. Traditionally, the role of the godparents is to ensure religious educations for the children as well as caring for them in case they become orphaned. Godparents are expected to bring gifts or tokens for the godchildren during the christening celebrations. If you are chosen to be a godparent for a Filipino child, there are many gift related to Filipino culture that you can give.
Religious Tokens
Given Filipinos' deep-seated faith, religious tokens such as Bibles, rosaries, prayer books, crucifixes and patron saint figurines can be given to godchildren. These are often staples in Filipino households. Before buying religious tokens as gifts, make sure that you confirm their religion first. Beliefs and traditions vary among different Filipino Christian denominations.
Charms and Jewelry
Jewelry or charms made of sterling silver or gold are long lasting. Charms and jewelry can be worn until children grow up. Most Roman Catholic Filipinos are devotees of the Virgin Mary and St. Joseph. Filipino mothers may appreciate pendants or amulets of the Virgin Mary given to their daughters. For boys, you can give medallions of St. Joseph or crucifix pendants with their names and birth dates engraved at the backs. Personalized charms and jewelry can be memorable gifts and keepsakes for children.
Personalized Artwork
A personalized gift for the baby may be highly appreciated. Bamboo is indigenous to the Philippines and is used in many native handcrafted items. Personalize artwork made of bamboo with the baby's name or initials such as keepsake boxes, door hangers, picture frames and name plaques. These can be used to adorn the baby's nursery and gives the couple a chance to show off the baby's name.
Clothing
Baby clothing is a convenient and useful gift. Filipinos are proud of their culture and you can flatter them with baby clothes printed with the Philippine flag and quotes and sayings in the Filipino language. If you are not sure about the baby's age, keep in mind that babies grow at an amazing rate. It is better to pick something that the baby can use in six to nine months.
Filipino Baby Basket
The Philippines is known for native handcrafted baskets. Creating your own baby gift set by using a handcrafted basket for another gift that incorporates the Filipino culture. Fill a handcrafted basket with essentials for the baby such as clothing, beddings and feeding supplies. Wrap the whole basket with wrapping paper or plastic. Tie a ribbon using raffia as a final touch.