Kira from "Xanadu" was played to perfection by Olivia Newton-John in the 1980 camp classic film. It has stood the test of time and is beloved by millions. It also had a Broadway success story comeback, and now the film and play are both more popular than ever. With a love of the time period of the film and a late-found respect for its roller disco premise, this year is the time for you to be "Kira" -- make your own Xanadu outfits. Here's how to create the perfect costume.
Bring out the soundtrack. The best part of the film is undeniably its amazing soundtrack. The soundtrack was a hit even at the point in time that film was not and it will inspire you to be the magnificent Kira.
Acquire the Roller Skates
Get a pair of vintage roller skates. For this character's Xanadu costumes, you must start at the feet and go up. The roller skates are the most important part. Kira is a roller skating Greek goddess muse. Feel free to add feminine touches to the roller skates by adding lace or frills.
Kira's Xanadu Costumes Leg Warmers
Put on some leg warmers. This is part of the Xanadu costumes in the play, and it is worth doing as a homage to the time period. It will also protect your legs when skating.
Get a "muse" dress. The dress should have no collar, and it should be cut so that the elastic in the top of the dress comes down to your shoulders. You can wear the dress right at shoulder length. It's a sexy but classical, mystical look that you are going for. The skirt of the dress must sway and flow when skating. Feel free to go for separates if you cannot get a dress that encompasses both looks.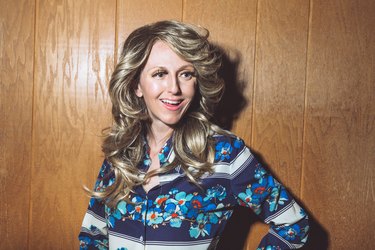 Curl your hair if it blond, or obtain a blond wig. It should be curly and flow past your shoulders. Kira is carefree and her hair looks carefree as well.
Put on some sparkling barrettes or something in your hair that looks glamorous and matches your dress. There is no need to go overboard on the hair, but something elegant and understated is ideal for the true Kira look you are going for.
Tip
Let your imagination go wild in your reference to 1980 with this costume. It can be kitsch or wild. It is the wonderful Kira that you are portraying.
For some trivia: Entertainer Chloe Lattanzi was born because of this film. Her parents met on the set; her mom is the lead of the film, and her dad was a back-up dancer seen in many parts of the film.
Warning
Don't make fun of this character with your costume. Be sincere. Kira is a great character that deserves some respect, even though she spoofs herself in the play.
Don't assume that you will be allowed to roller skate at the party. Check with the host ahead of time. In a worst case scenario, you can simple carry your shoes to your side, and wear some flats. Kira has no shame in wearing normal shoes on occasion.