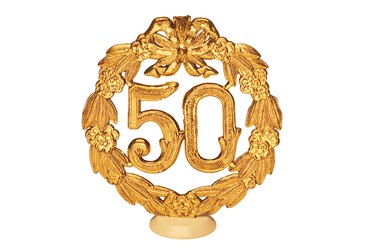 A golden wedding anniversary in an important milestone. The couple has weathered many storms in life during their 50 years of marriage and have remained together through it all. Commemorate this important event with a special photograph for display in the couple's home, to share with loved ones or to pass down to future generations.
Family Portrait
Most couples celebrating their 50th wedding anniversary would be pleased to have their children and grandchildren gathered together in one place. Gather the couple's children, their spouses and offspring together for a celebration. Take candid shots of the group during the celebration, and then gather everyone together to take a portrait. Take the photograph outside against an attractive background, since a large group is hard to photograph in a studio. Ask everyone to wear similar colored clothing for a cohesive picture. For instance, ask all participants to wear white, beige or black and white.
Re-create Wedding Picture
Find the couple's favorite wedding photograph, and re-create the image for a 50th wedding anniversary photo. If the original wedding picture shows the couple cutting their wedding cake, buy a similar cake for the couple's wedding anniversary, and ask them to assume the same positions to take a picture that mimics the original. If the location of their wedding is nearby, take a photo of the couple standing in the spot where they married 50 years before.
Anniversary Themed
Create a background that is anniversary specific for an anniversary photo. Hang some gold-colored fabric on a wall to serve as a background or paint a large numeral 50 in gold on a piece of poster board. Have the couple stand in front of the backdrop to take a special anniversary picture. Also consider a gold foil "Happy Anniversary" banner or gold balloons. Or you might use gold spray paint on silk flowers to add to the background.
Other Picture Ideas
Take a special photo of the anniversary couple in their backyard, home or another special place, or during their special anniversary celebration. Then turn the photo into a decorative gift. Print the photo onto iron-on transfer papers and iron it onto matching T-shirts to give to the anniversary couple. Make a display of photos of the 50th wedding anniversary couple and their family. Frame all the photos in coordinating frames. Take a picture of the couple standing next to the photo collection on their anniversary.