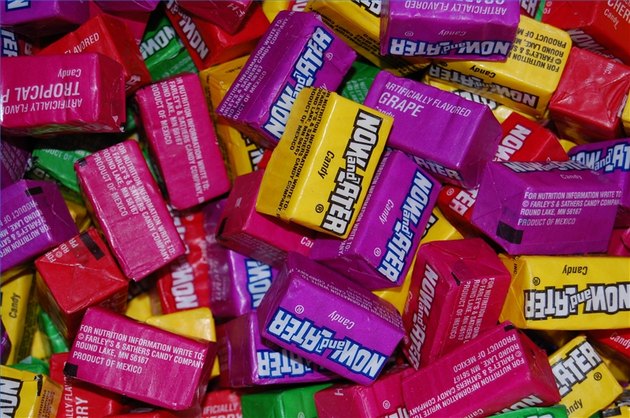 Now and Later has been a popular treat since the 1960s. The candy is made of hard or soft taffy and is available in a variety of flavors including cherry, banana and watermelon. It is important to know the nutritional values in each serving before consuming, as Now and Later is composed only of carbohydrates and fats. Eating too much candy could hurt your diet plan and your dental health.
Calories
According to thedailyplate.com, a serving of Now and Later candy is 9 pieces or 39 grams. Each serving contains 120 calories, with ten calories from fat---about 13 calories and 1 calorie of fat per individual piece.
Protein and Carbohydrates
Now and Later candy contains no protein. According to thedailyplate.com, over 93 percent of the candy's nutritional make-up is from carbohydrates. Each serving boasts 28 grams of carbohydrates or 9 percent of the daily recommended allowance, based on a 2,000-calorie diet.
Additional Nutrition
Although the candy does not contain any cholesterol, it is not considered a heart-healthy food by the American Heart Association as the calories are empty. Sodium is present in each serving at 40 mg, or 2 percent of the daily value. Now and Later offers no vitamins or minerals.
Considerations
Try eating one or two pieces instead of the suggested serving size. You will still get to enjoy the taffy flavor without the extra carbohydrates and fat. Now and Later candy should be consumed as an occasional treat and not every day. As the candy is taffy, always brush your teeth after eating to avoid cavities and dental issues.
Warning
Now and Later and other candies containing sugar should only be consumed in moderation if you are a diabetic. Opt for a sugar-free alternative instead. In addition, if you have preexisting dental problems such as tooth sensitivity or cavities, consult with your dentist about what food choices are right for you. Do not eat the candy if you wear braces, as the taffy may cause significant damage.