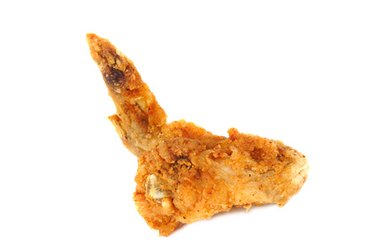 Low carb diets are diets that restrict carbohydrates, and emphasize eating more proteins and fats Many types of low carb diets exist, including Atkins, South Beach and Zone Diet. Fried foods are generally not part of most low carb diets because the breading on fried foods is made from starchy carbs. However, the definition of what constitutes "low carb" is highly subjective, and certain fried food can now be considered low in carbohydrates. To maximize the health benefits of fried foods when preparing your own meals, coat your food with a small amount of whole wheat flour, and use heart healthy cooking oils like olive and canola oil. The key is to eat any type of fried food, whether it's low carb or not, in moderation.
Fried Chicken
Fried chicken is chicken that's coated in breading and deep fried. Often, you find fried chicken in the form of chicken fingers, which contains chicken breast meat with a fried coating, or chicken wings, which contains chicken wing meat with a fried coating. Both a fried chicken wing and a fried chicken breast at KFC contain only 4 g of carbohydrates, making this a high protein, low carbohydrate food. The fried chicken at Long John Silver's contains 9 g of carbohydrates. Avoid the chicken strips in general, though. For example, the chicken strips at KFC contain 27 g of carbohydrates in just three strips.
Fried Fish
Many types of fried fish can be a good high protein, low carb choices. If you're at a restaurant, ask for your fish to be "flash fried." This frying method uses less breading than traditional frying. Also, choose larger pieces of fish when possible. Smaller pieces, such as "popcorn shrimp," contain more breading on each piece, which can really make the carbs add up. The battered shrimp at Long John Silver's contains 8 g of carbs per serving.
Fried Vegetables
You can eat many types of fried vegetables on a low carb diet. Mushrooms, cauliflower, eggplant, zucchini, okra, green beans and tomatoes are all examples of vegetables that are low in carbohydrates in their natural state. Flash fried collard greens and spinach are also good low carb fried food options. If you fry the food at home, the less breading you use the lower number of carbs you'll consume. Avoid starchy fried vegetables such as fried potato skins and French fries.