Air fryers are all the rage right now. In fact, the air fryer market is projected to reach $1.426 billion by 2026. Not only are they becoming a staple in home kitchens; many commercial kitchens are switching over to air fryers for many of their fried foods, as well. And it isn't hard to see why: Air fryers significantly reduce fat, lower the number of calories and even slash cooking time in half, in many cases. So if you love delicious food with a crispy texture but want to stay on the healthier side of things, an air fryer is your answer.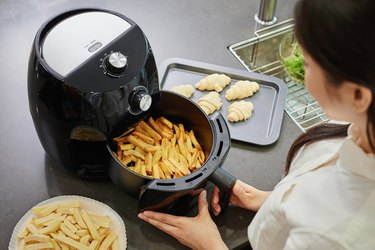 With dozens of high-quality air fryers out there, trying to figure out which one to get can be tricky. Our air fryer buying guide will help you make a smart selection.
What to Look for in an Air Fryer
‌Capacity:‌ Smaller air fryers will typically offer 2 quarts of space, while large air fryers can offer 5 quarts or more. For items like French fries and snacks, a medium-sized or small-sized fryer will probably suffice, but if you want to cook things like a whole chicken, opt for a larger fryer.
‌Wattage:‌ Generally, the higher the wattage, the more quickly the air fryer can cook. Most air fryers span a range of 800 to 1500 watts, with some reaching wattage levels of 1800 watts or more. If you're adding frozen or semi-frozen foods to your fryer, you'll definitely benefit from a higher wattage.
‌Temperature Control:‌ Higher temperatures cook food more quickly, so look for air fryers that go up to at least 350 degrees Fahrenheit. More advanced air fryers will often have indicator lights, preset buttons and timers to make your life easier.
‌Safety:‌ Smartly designed air fryers will be well-insulated and feature cool-grip handles so you don't burn your hands taking out the food basket. Other safety features to look out for are a non-slip base, a locking lid, and an automatic shutoff to prevent food from overcooking (or the machine from catching fire).
‌Price:‌ Most air fryers range from $80 to $200, but some expensive ones cost as much as $300. Generally, a 3- to 4-quart air fryer for under $90 is a decent value, while a 6-quart or larger air fryer (enough for a family of four or more) for under $150 is quite reasonable.
‌Special Features:‌ Every air fryer should at least offer the bare-bones convection function that crisps your food, but some air fryers tout extra settings such as roasting and dehydrating, as well as bells and whistles like rotating plates, multiple food baskets or tiers, digital interfaces or a smorgasbord of timed presets.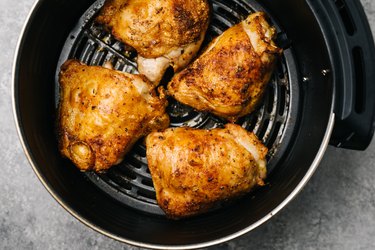 Best Overall: Instant Pot Vortex Plus 6-in-1 Air Fryer
Given their huge success with 6-in-1 multi-cookers, it's probably not a huge surprise to see Instant Pot deliver an outstanding 6-in-1 air fryer. This model presents one of the best values on the market for what you get—there really aren't any compromises for this price point.
The Plus model (there's also a highly-recommended Instant Vortex 4-in-1 model) is designed with a very roomy basket and user-friendly touchscreen with pre-programmed settings, plus a dial that can adjust the temperature in 5-degree increments. Its six settings are: Air Fry, Broil, Roast, Dehydrate, Bake and Reheat. It also features a wider temperature range than you'll see on many air fryers, providing more versatility. Made of high-quality materials like stainless steel and featuring multiple safety features like automatic shutoff and overheating protection, this fryer covers all the bases and more.
‌Capacity:‌ 6 quarts
‌Feeds:‌ 4-6 people
‌Wattage:‌ 1,700 watts
‌Number of settings:‌ 6
‌Auto shutoff:‌ Yes
‌Temperature:‌ 95 to 400 degrees Fahrenheit
Can fit a 4-pound butterflied chicken or 2-pound bag of fries
Uses up to 95% less oil than traditional methods
Easy-to-use, touchscreen display
Built-in safety features like overheating protection
Comes with access to free app for iOS or Android featuring over 1,000 recipes (also Alexa-friendly)
Best High-Capacity Air Fryer: Ultrean 8.5-Quart Air Fryer
If you're looking to make huge batches of crispy food at a time, this Ultrean 8.5-quart fryer is for you. Featuring a massive fry basket (about as big as it gets for traditional air fryers), this model is perfect for larger families and can feed six to eight people in one batch. This fryer helps you use up to 80% less fat or oil and boasts seven cooking presets, including chips (fries), meat, shrimp, chicken, steak, fish and even cake. It also comes with a recipe cookbook.
‌Capacity:‌ 8.5 quarts
‌Feeds:‌ 6-8 people
‌Wattage:‌ 1,700 watts
‌Number of settings:‌ 7
‌Auto shutoff:‌ Yes
‌Temperature:‌ 180 to 400 degrees Fahrenheit
Available in four colors
Capacity is about as high as it gets for traditional air fryers
Ergonomically designed LCD display is angled for more comfort
Overheating protection features
Adjustable timer and temperature controls
Easy to clean, comes with dishwasher-safe accessories
Best Compact Air Fryer: Dash Compact Air Fryer
The DASH Aircrisp Compact Air Fryer reduces oil and fat by up to 80% and offers 2 quarts of cooking space, making it ideal for people with limited space, singles, couples—or all of the above. It's small enough that it won't crowd your RV or studio apartment. It's one of the least expensive air fryers with a good reputation, but keep in mind that it's more suitable for one or two people than larger families (unless you don't mind making several batches). While you can't cook a whole chicken in it, you can still fit about half a dozen chicken tenders or wings or half a pound of frozen French fries at a time. It also comes with a recipe book and one-year limited warranty.
‌Capacity:‌ 2 quarts
‌Feeds:‌ 1-2 people
‌Wattage:‌ 1,000 watts
‌Number of settings:‌ 1
‌Auto shutoff:‌ Yes
‌Temperature:‌ Up to 400 degrees Fahrenheit
One of the smallest footprints among air fryers; lightweight
Available in five colors
Easy to use—simply plug in, set temperature and set timer
Cool-touch, insulated interior and handle
Easy cleanup
Best Value Air Fryer: GoWISE USA 5.8-Quart 8-in-1 Digital Air Fryer
While this isn't the cheapest air fryer on this list, its lower-than-average price point for its capacity and number of features earns its spot as "the best no-compromises air fryer under $90." It's budget-friendly for what you get. This air fryer offers almost 6 quarts of food capacity (enough for most medium-sized families) and features eight easy-to-use presets: fries/chips, pork, chicken, steak, shrimp, fish, pizza and cake. It's also equipped with a wide temperature range in 10-degree increments and a cooking timer of up to 30 minutes. On top of all this, it comes with a 50-recipe cookbook, a 30-day money-back guarantee and a one-year warranty. The only caveat is that the pieces aren't dishwasher-friendly.
‌Capacity:‌ 5.8 quarts
‌Feeds:‌ 4-6 people
‌Wattage:‌ 1,700 watts
‌Number of settings:‌ 8
‌Auto shutoff:‌ No
‌Temperature:‌ 180 to 400 degrees Fahrenheit
Impressive price point for the features
Non-stick pan and detachable basket equipped with cool-touch handle and button guard
Start/Stop button lets you change time and temperature mid-cycle
Built-in alarm reminds you to shake your ingredients in 5-, 10- and 15-minute increments
Best for Busy Cooks: Ninja Foodi 6-in-1, 2-Basket Air Fryer with DualZone Technology
This hefty air fryer is ideal for busy cooks because it lets you cook two foods at once. Dual 4-quart frying baskets allow you to cook two different foods on two different settings at the same time—perfect for multi-course meals. Of course, you can also put the same food in each basket and cook the equivalent of an 8-quart serving. The Ninja Foodi is ideal for larger families or party food preparation. Six customizable settings include: air fry, air broil, roast, bake, reheat and dehydrate—pretty much everything you could want.
‌Capacity:‌ 8 quarts
‌Feeds:‌ 6-8 people
‌Wattage:‌ 1,690 watts
‌Number of settings:‌ 6
‌Auto shutoff:‌ Yes
‌Temperature:‌ 105-450 degrees Fahrenheit
Two independent baskets let you cook different foods at once
Digital display and six cooking settings
Cancel button to stop mid-cycle
The square shape lets you cram in more items (such as fries) and works well for batches with dissimilar food items
Best Air Fryer Toaster Oven: Cuisinart TOA-65 Digital Convection Toaster Oven Air Fryer
If you're extra practical and like appliances with multiple applications, the Cuisinart TOA-65 is a good bet. It combines the features of an air fryer and a traditional toaster oven, complete with air fry settings for foods like chicken wings and nuggets, snacks and vegetables, and toaster oven settings for baking, broiling, roasting, toasting, reheating, warming and dual cooking. It produces minimal noise and offers one of the widest temperature ranges for an air fryer or toaster oven. It also comes with both a baking pan and air fryer basket. A compact model is also available.
Since it's an air fryer-toaster oven combo with a digital display, it does fall on the pricier end of the spectrum. If you want similar versatility but don't mind forgoing the cost-adding digital display, consider the Cuisinart Airfryer, Convection Toaster Oven.
‌Capacity:‌ Up to 3 pounds of food (18 quarts)
‌Feeds:‌ 4-5 people
‌Wattage:‌ 1,800 watts
‌Number of settings:‌ 5 air fry presets, 6 toaster oven functions
‌Auto shutoff:‌ No
‌Temperature:‌ 80-450 degrees Fahrenheit
2-in-1 air fryer and toaster oven capabilities
Low temperature settings for proofing dough and dehydrating foods
Large digital display, which isn't seen on standard toaster ovens
Non-stick interior for easy cleaning
Baking pan and frying basket are dishwasher-safe
Best Air Fryer Pressure Cooker: Ninja FD401 Foodi 8-Quart 9-in-1 Deluxe XL Pressure Cooker
The FD401 combines a pressure cooker and air fryer to make for one formidable cooking machine that is a must-have for the kitchen of any serious cook. This deluxe pressure cooker from Ninja earns that qualifier with its nine cooking functions: pressure cook, air crisp, steam, slow cook, yogurt, sear/sauté, bake/roast, broil and dehydrate. Ninja's Tendercrisp technology cooks ingredients to lock in juices and then gives them a crispy, golden air-fryer finish. It contains an 8-quart ceramic-coated, non-stick pot and a 5-quart cook-and-crisp basket. It also comes with a 45-recipe guide.
‌Capacity:‌ 8 quarts
‌Feeds:‌ 6-8 people
‌Wattage:‌ 1,760 watts
‌Number of settings:‌ 9
‌Auto shutoff:‌ Yes
‌Temperature:‌ Up to 400 degrees Fahrenheit
Big enough to cook a whole 7-pound chicken
Non-stick basket is dishwasher-safe
Locks in juices
Cooks 70% faster than traditional methods
14 safety features