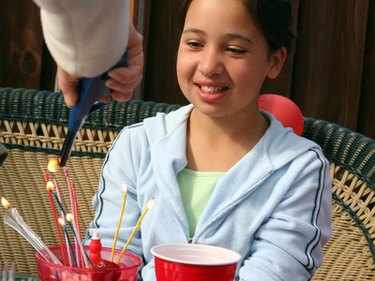 Birthday party ideas for 10-year-old girls should take into consideration that girls are at a unique age when they're 10; at this age they are between stages and party and birthday gift ideas can be tricky. Most likely your daughter has outgrown the doll stage but isn't quite ready for teenage things, which is why her birthday party should reflect her personality and her interests. Most girls love slumber parties, and most of these party ideas work well as part of a slumber party.
Hairstyling Activity
Let the party guests play hairdresser by having a hairstyling competition. Two small tables can serve as mini hair stations for this activity. The first table can have hair styling aids such as combs, hair pins and brushes. The next table can have hair accessories such as barrettes, hair ribbons, glittery hair pins and colorful hair clips. Instruct the guests to create glamorous hairstyles on each other. Award all of your guests with a cute barrette or headband to take home. Take glamour shots of the girls new dos with a digital camera.
Beauty Shop Manicures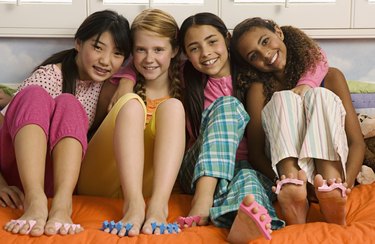 Another activity for the birthday girl and her guests is beauty shop manicures. Place tools used for a manicure like easy to handle nail buffers and nail polish on a table. Provide several different colors of nail polishes in bold and vibrant shades that glitter or shimmer on the table. Let the girls have fun by giving each other manicures. Purchase several inexpensive fake rings and give them as party favors to the girls after their manicures.
Fun Party Foods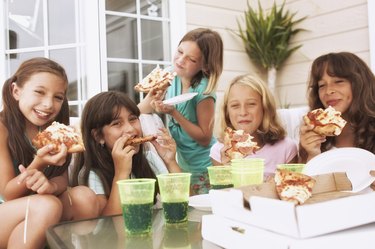 In addition to a themed birthday cake, serve pizza slices on cute paper plates and leave the pizza box out so guests can grab seconds. Serve garlic bread along with the pizza. Serve chicken fingers with bbq sauce or honey mustard dip on the side. Tater tots with ketchup on the side are also still fun food for this age group.
Slumber Party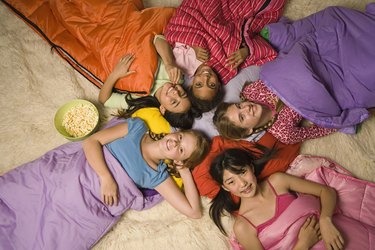 Girls at this age love slumber parties. Rent a couple of your daughter's favorite movies and place a radio in the room. Give the girls hula hoops so they can dance to the music. Ten year-old girls love to whisper, giggle and be silly until the wee hours of the morning so you'll need plenty of snacks. Offer the girls large bowls of popcorn with fruit punch. Put candy bars in a bowl so they can help themselves.
Party favors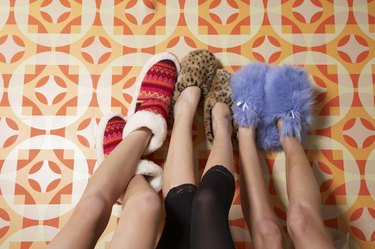 Party favors are ideal for 10-year-old girls. Fuzzy slippers in bright colors or bright night shirts that match the party theme are fun favors for a sleepover party. Put sugar cookies in a cellophane bag. Add a bright curling ribbon that matches your theme colors to your cookie bag for a lovely decorative effect.