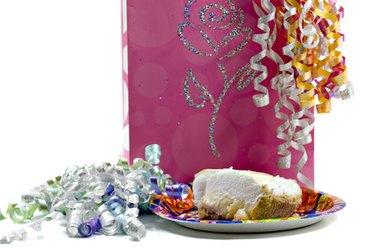 Many girls look forward to a Sweet Sixteen party when they reach the age at which they are leaving childhood for good and entering young adulthood. Parties can be formal affairs, casual or even edgy for the more urbane teen. There are many traditions, some of them coming from the ethnic groups that make up our culture. But in the end, the choice of how to celebrate and what to wear is really up to you.
History
In America, cultural groups follow traditions of the "coming of age" party for young women. For aristocrats, Debutante Balls were held starting in 1750. For Hispanics, it's the Quinceanera which takes place at the age of 15. Jewish young women are given a Bat Mitzvah around the age of thirteen. For many, the celebration marking the transition from childhood to adulthood for an American young lady, no matter what her ethnic background, is the Sweet Sixteen.
Sweet Sixteen Themes
There are as many Sweet Sixteen themes as there are ideas in the imagination. Dance parties are popular, with DJ's providing the music and dance instruction in groups to avoid embarrassment. For the romantic, use a Cinderella theme and become a princess for the day. For a casual idea, try an outdoor luau, complete with limbo games and Hawaiian flowers. The more sophisticated can use the Denim and Diamonds theme and create the look of a club, with a darkened room and silver and blue decorations.
For friends all turning sixteen around the same time, the Round Robin party is a good choice. Divide the guests into groups, and have each group go to a hostess home for hors d'oeuvres. Shuffle the members of the groups, and have them go a different hostess home for the main course. All guests can then meet at the same destination for dessert. A Round Robin has the advantage of keeping everyone actively involved, while keeping costs down.
Sweet Sixteen Dresses
The dress you choose will depend on the theme of your party. You will want to stand out from the crowd, so if you are having a formal dance party, a cocktail length strapless dress may be in order. For the luau, when most of your friends are in casual tops and shorts or jeans, you can be wearing a floral patterned cotton dress to go with your Hawaiian lei. As Cinderella, wear a prom-type dress that makes you feel like a princess. As for Denim and Diamonds, the theme speaks for itself.
Sweet Sixteen Traditions
There are no real hard and fast rules for a Sweet Sixteen party, but many young women follow traditions that started with the Quinceanera Hispanic celebration for 15 year-old girls. Sometimes the Sweet Sixteen celebrant is given a tiara to wear, and when there is music and families are present, there is a dance with the girl's father. A popular tradition is the candle lighting ceremony. The young woman can recite a poem as she calls up the important people in her life to light a candle, including family and friends.
Traditional Sweet Sixteen Music
For music, many Sweet Sixteen parties play current popular music and slow waltzes in addition to old favorites including "16 Candles" by the Crests, "Happy Birthday Sweet 16" by Neil Sedaka, and "Sweet Little Sixteen" by Chuck Berry.