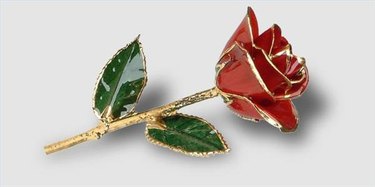 The giving of flowers has long been a symbolic gesture in various societies. In the Victorian era, flowers were seen as a gift, with each type of flower having individual meaning. Today, flowers are often used for gifts and celebrations based on their colors, scents or reputations. The red rose, for example, has upheld its meaning of romance over time. It is often associated with Valentine's Day. Gold dipped roses are a luxurious addition to the art of flower giving. The cost of gold dipped roses varies, within the range of $17.99 to $799.99.
Size
Gold tipped roses are typically smaller roses. It is typically less than 12 inches in height. The flowers are between 2 to 3 inches in width. Upon being dipped into the lacquer and then the gold, the size of the rose does not change significantly. Both the lacquer and gold are thin coatings, which do not affect the rose's overall size. Gold dipped roses retain the fine contours of the original flower.
Identification
Gold dipped flowers are an expensive form of floral preservation. A freshly cut rose is carefully inspected, and then a clear lacquer coats the rose to not only enhance its beauty with the benefits of gloss but also to preserve the flower. The lacquer acts as a coat that hardens and protects the rose, so that it does not disintegrate when it comes to contact with liquid gold. The flower is then dipped into gold. Some roses are fully dipped in gold, while others are only partially dipped or painted in gold, revealing its original color beneath a shiny clear lacquer.
Function
A gold dipped rose can be a luxurious and meaningful present for a female. Roses are symbolic of love and romance. However, other colors, such as yellow signify friendship. Gold is a desired luxury that is often associated with wealth. Partially gold dipped red roses are especially appropriate for Valentine's Day. Other holidays and birthdays are also appropriate times to give gold dipped roses. Sometimes, gold dipped roses are given in bud form or as a single stemmed rose. Other extravagant options include half a dozen to a dozen gold dipped roses.
Time Frame
Gold dipped roses can last a lifetime, so you will definitely not be throwing these flowers away. The process of creating a gold dipped rose begins when it is freshly cut. The fresh roses are chosen with a discriminating eye--they are hand selected for their qualities and overall shapes, which includes full petals and a straight stem. The process of being picked, applying clear lacquer finally dipping in gold takes approximately 30 days.
Expert Insight
A dozen gold dipped roses can cost a couple hundred dollars. The Sky Mall sells gold dipped roses in the range of $19.99 to $799.99. A large crystal vase containing a dozen gold dipped roses costs $799.99. For a more affordable option, a pewter bud vase and rose costs $19.99.