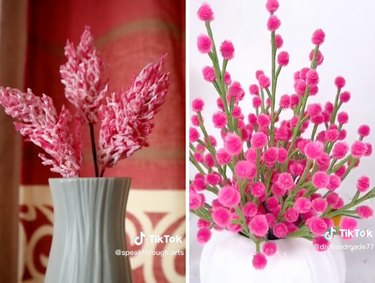 A bouquet of real flowers is always a welcome gift, but what if you could enjoy your beautiful blooms forever? Nothing can replace the wonders (and marvelous aromas) of actual fresh flowers, but there's so much fun and imagination in dreaming up nontraditional faux flowers. Think: flowers crafted from colorful pipe cleaners, inventive recycled materials and yarn! Whether you're seeking a more cost-effective bouquet to gift a loved one or you're eager to embrace a fantastical new hobby, these "nonflower flowers" from TikTok will leave you feeling inspired. Plant those seeds of creativity and start building a bouquet that will stay fresh forever!
This might be one of the most beautiful examples of recycling we've ever seen. TikToker @speakthrough.arts gathers excess foam netting from produce and uses it to create a whimsical bouquet of DIY flowers. The project requires a touch of paint, adhesive, wire for "stems" and—of course—a bit of leftover foam wrap from a batch of apples or other grocery store buys. The result is something totally original (and totally lovely).
If you're looking for project to try with materials you might already have in your craft drawer, this pipe cleaner tutorial from TikToker @diyhandmade77 is easy to follow and results in a gorgeous bouquet of tiny pink buds. All it takes are vibrant pipe cleaners, scissors, green tape or paper for wrapping and extra wire. We love the pink and green palette used below, but there's so much room for creativity here. Can you imagine a bouquet of these with a mixture of spring colors, like pastel yellow, baby blue and light purple? Lovely!
Finally, here's a pick for all you DIYers. This tutorial from TikToker @beeweniqueboutique demonstrates how to create adorable crochet roses that will never wilt (or poke your fingers—because they don't have thorns!). You'll need some crochet experience to pull these off, but the results are totally enchanting. We can only imagine how pretty they'd look adhered to a wire and arranged in a "forever bouquet."
No matter which material you choose to work with, we hope these three floral creations from social media leave your sense of whimsical inspiration in full bloom.