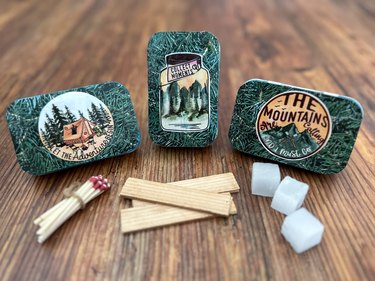 Camping in the great outdoors is a blast, but no nature-based adventure comes without a few potential hiccups. Whether you're struggling to make a fire, dealing with cuts and splinters or simply in need of tools to tackle a quick campsite snag, we've got you covered with an easy and practical DIY guide for creating a trio of functional camping kits.
The best part? You don't have to spend a fortune to feel prepared as you embark on your next outdoor trip. Our tutorial will help you transform empty Altoids mint tins into stylish, practical camping survival kits. With a touch of vintage charm, these quaint containers can easily house everything you need for outdoor escapades, from campfire-starting tools to first aid supplies. Ready to get creative? Let's dive into the world of upcycling as we create our very own vintage-inspired camping survival tins!
Video: Camping Survival Tins With Vintage Vibes
Things You'll Need
Empty Altoids tins

Sharp scissors

Paper camping images

Background paper

Mod Podge

Foam brush
1. Print and cut out paper images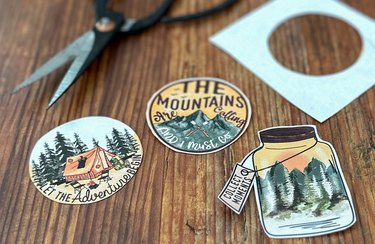 Check out travel magazines, camping gear packaging or the vast wilderness of the internet to find images for covering the camping tins. These will be decoupaged onto the tins, so use scissors to cut out preferred shapes.
Tip
If your search mission doesn't lead to any enticing usable freebies, no worries! You can always source camping-specific images or logos from Etsy. That's exactly what we did for the graphics seen in this tutorial.
2. Adhere images to tins with Mod Podge
Using a foam brush and Mod Podge, adhere images to tin tops.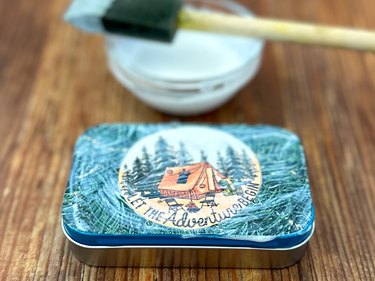 Use multiple layers and give each coat ample time to dry.
Part 2: Build Fire-Starting Tin
Things You'll Need
Decorated tin

Small pieces of wood kindling

Wax-soaked cotton balls

Wax chunks

Waterproof matches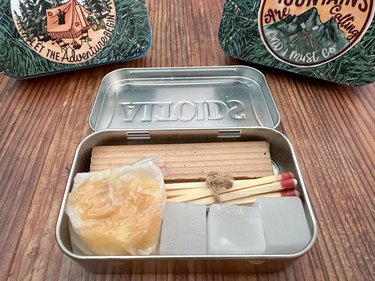 Next, you'll need to fill your tins with essentials!
Picture this: You're out on a day hike, but things take an unexpected turn and you find yourself on an impromptu overnight adventure. Fear not! You've got a lifesaver fire-starting kit in your upcycled tin. To create this kit, fill the tin with a wax-soaked cotton ball, solid wax chunks, dry kindling sticks and a few waterproof matches.
Part 3: Build Camping Essentials Survival Tin
Things You'll Need
Decorated tin

Flint

Multi-tool

Flashlight

Water purification tablets

Waterproof matches

Compass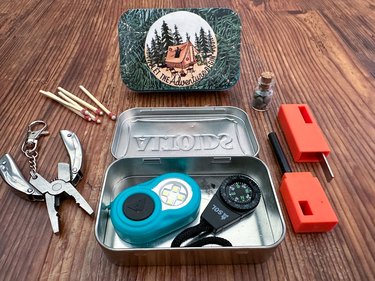 If your day hike or overnight camping trip turns into an extended stay, a camping essentials survival kit will keep you covered. To build your second tin, gather a multi-tool keychain with a knife, set of pliers, screwdriver and file.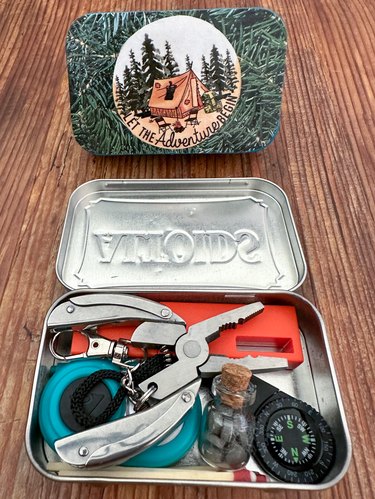 Add water purification packets, a mini flashlight, flint and steel, matches and a small compass.
Part 4: Build First Aid Camping Tin
Things You'll Need
Adhesive bandages

Tweezers

Antiseptic

Antihistamine tablets

Antacid

Throat lozenges

Pain reliever

Decongestant
In the third tin, compile a DIY first aid kit to save the day while camping.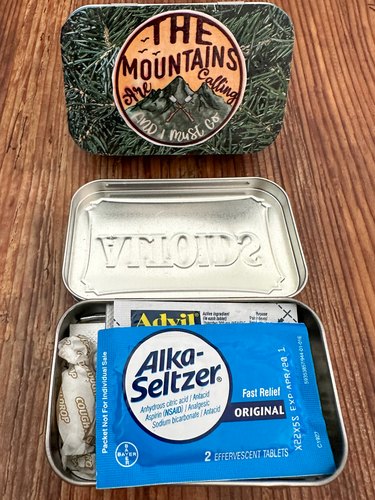 Gather antacids, antidiarrheals, antihistamines, decongestants, pain relievers and throat lozenges. Add an antiseptic pad, trusty bandages and a pair of tweezers to round things out.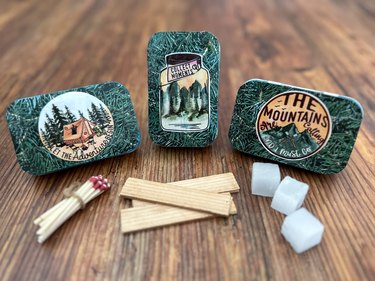 Congratulations, camper! You've successfully transformed empty Altoids tins into vintage-inspired camping survival kits. With your newly created fire-starting kit, camping essentials kit and first aid supply kit, you're all set to conquer the wilderness with style and preparedness. Go forth, explore the great outdoors and embrace those vintage vibes!