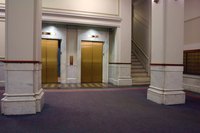 An elevator made from boxes and twine adds an element of delight to a child's play space. The elevator can be used as part of a pretend parking garage to lift cars to their designated parking spots. An elevator can also be used to carry dolls to their scheduled hair appointment at the pretend beauty parlor. The possibilities are endless with this creative structure. Simple in design, the elevator will take less than half an hour to build.
Things You'll Need
Large moving box
Shoebox
Ruler
Scissors
Stand the moving box upright. Cut a doorknob-sized hole at the top of the box, in the center. Stand the shoebox upright. Cut two quarter-sized holes at the top and bottom of the shoebox.
Measure the length of the moving box. Double this length. Cut a piece of twine that matches that measurement.
Place the shoebox inside of the moving box. Thread the twine through the hole at the top of the moving box and down through the hole on the top of the shoebox. Continue threading the twine through the shoebox bottom. Tie a slip knot at the bottom of the shoebox to prevent the twine from slipping out again. If needed, tape the knot at the bottom of the twine to the bottom of the box as an extra measure.
Use the long length of twine at the top of the box to pull the shoebox up. Add items to the shoebox to carry. To prevent the twine from falling through the top of the moving box, add a clothespin to the end of the twine.